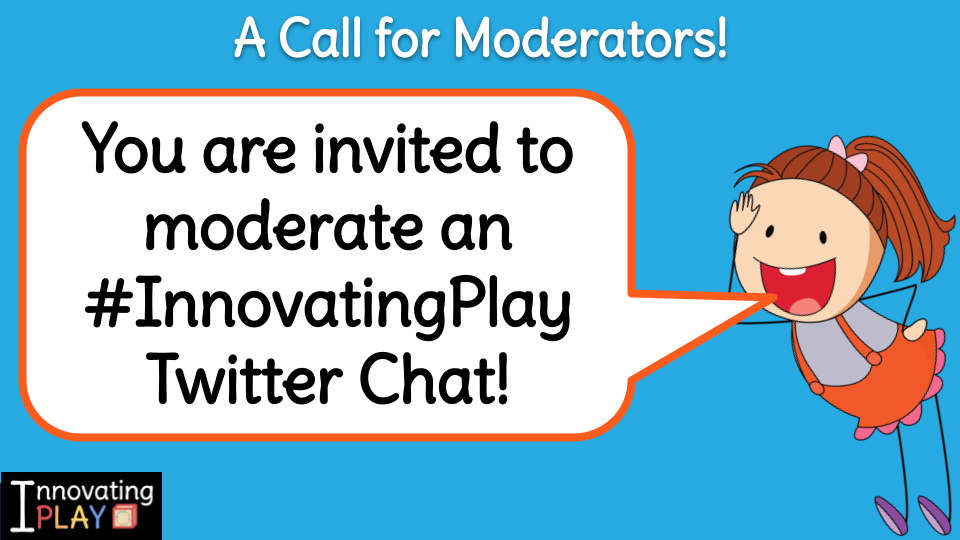 The #InnovatingPlay Twitter Chat has been taking place for over a year now! We value collaboration and the interests of others, and feel it would be wonderful to have YOU step up and facilitate a discussion on a topic that you are passionate about with those involved in early childhood education.
This IS something you CAN do, and here's why:
You will not be moderating alone! – We (Christine and Jessica) will be moderating WITH you. The three of us will post the chat questions and respond to others' responses.
Chats are only a half hour with 3 questions! – The chat does not move super fast, as there are about 7-8 minutes between each question for participants to answer. This gives a good amount of time for us (and participants) to respond to each others' answers.
Chat elements are taken care of – We will take care of creating visuals for chat questions and promoting the chat (although we would love it if you promoted it too!)
So, when you are ready, sign up to moderate using the #InnovtingPlay Moderator form. Chats will continue to take place the 2nd and 4th Saturdays of the month 10 – 10:30 AM EST. Please make sure the timing works out for you! After you fill out the form, we will be in touch with you to confirm the date and topic.