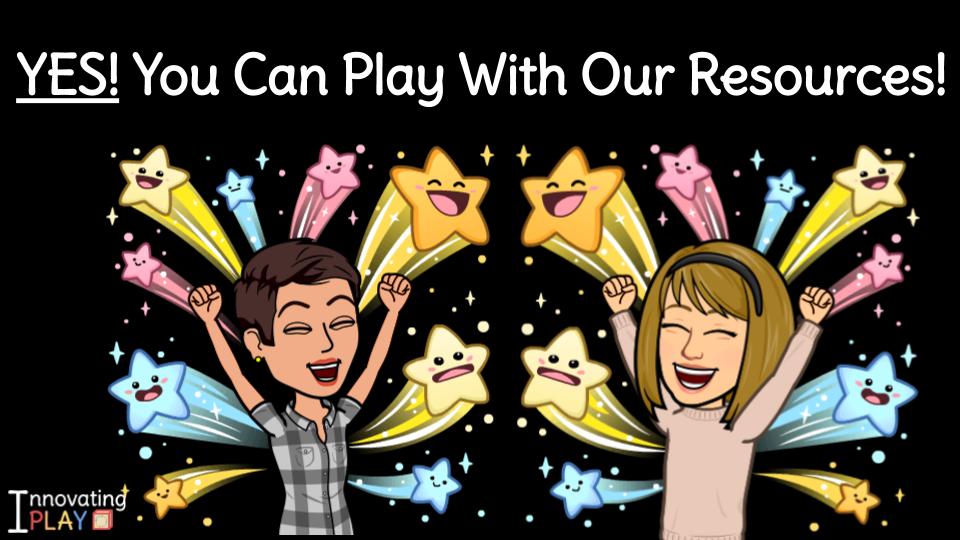 We are teachers on the frontlines with you. Teaching is too much to take on alone, whether it is IN the classroom or teaching remotely, so why not share our resources?
When we create something we use with our students and families and share about it here on our blog, in our book, on social media, while we are out presenting, etc, WE WOULD LOVE FOR YOU TO USE IT!!! YES, you can use that resource you found of ours, modify it, adapt it, customize it, however you need to for the needs of your students and families. YES, you can share it with your colleagues, teacher friends, PLN, etc. WE WANT YOU TO SHARE FORWARD! We love it when you come back and with us too. 🙂 We will celebrate with you! 
As you share with others, we ask that you share that the resource was inspired by or came from Innovating Play. Please see our Copyright Policy for more details.
Types of Resources in Our Toy Box
We share a variety of resources, and we want to make sure you know how to retrieve them. Since most of our goodies are created in Google Apps, ensure that you are working/accessing our resources in the Google account you want them to live in. Why does this matter? Your ability to pass things along to students will depend on how the Google Admin in your district has set things up. In other words, some districts set things up so that only domain users (user@yourschooldomain) can share files with each other.
"Force Copy" Links
"View" Links
Sometimes we share resources that we will KEEP ADDING TO with view links. If you like the resource, consider adding it to your Drive so next time you can find it by searching your Drive. From there, if you want your own copy so you can change it up, locate the File menu and select Make a copy.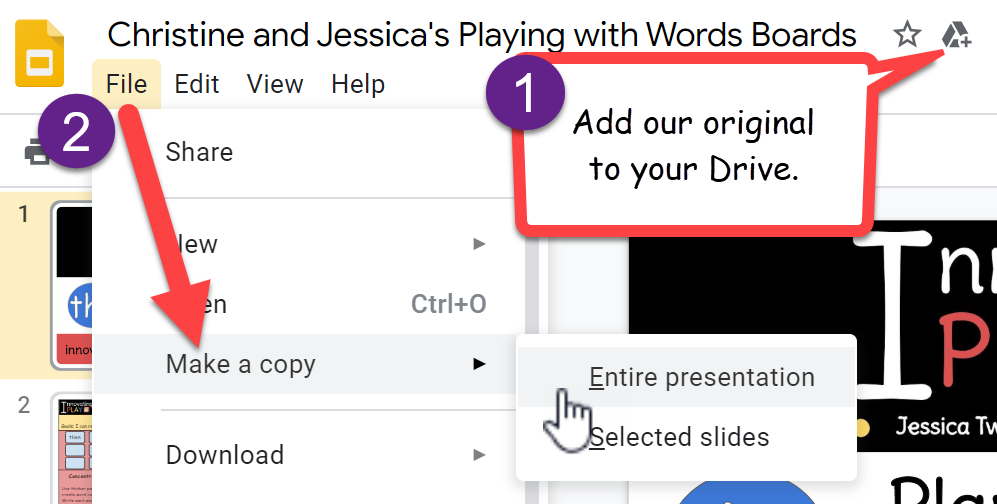 Published Links
Our published web resources can serve as guides or offer interactive experiences. These are ready to go as they are and do not require any editing or modifications. Oftentimes, we will share out the published link or our short URL to the resource that you can bookmark to come back to it later or share forward. Two examples are our The ABC Shortcuts of Google Apps and our Feelings Heart.
When It's YOUR TURN to Share Out
One of the benefits to working in Google Apps is the variety of ways you can share the content in them. Consider the best option for the resource you are sharing and the audience (students, colleagues, families, etc.)
Share document link – If you want to share the actual link to the document for others to VIEW ONLY, click on the Share button, click on "get shareable link," and ensure that the settings are set to "Anyone with the link can view." This is also the space where you can add collaborators if you would like to have people edit, or only have certain people viewing your document. The shareable link can be pasted into the tool that you are using to communicate with others.
Publish to the web (handy for embedding) – First, make sure the sharing access is "Anyone with the link can view." Then, locate the File menu and utilize the "Publish to the web" feature. The published link option allows you to share the published link, and the embedded code option allows you to embed the published document into a website.
Share as an image (Google Slides Only) – Each slide has the opportunity to be downloaded as an image file. Click on the slide you wish to download. Locate the File menu and select JPEG. This can be a handy sharing method when you are posting an image to platforms like Seesaw, ClassDojo, Remind, etc.
Even More Places to Find Resources!