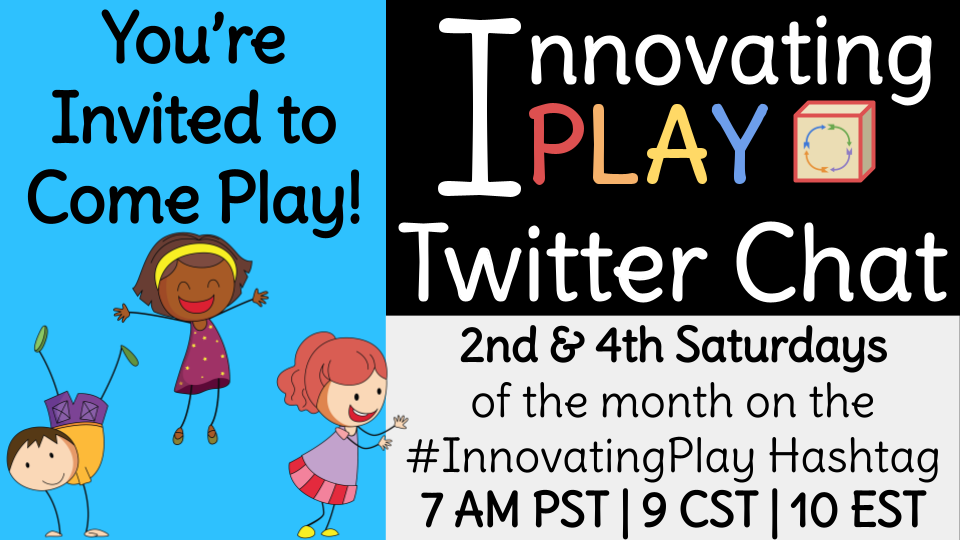 Who?
Educators who work with elementary students (teachers, admin, TOSAs, etc). Primary teachers will appreciate this the most!
What?
30 minutes of connecting with other educators on a topic that is relevant to working with elementary students. Three questions will be posted during that half hour, along with an "introduce yourself" prompt.
When?
2nd and 4th Saturdays of the month at 7 AM PST | 9 CST | 10 EST
Where?
The #InnovatingPlay hashtag on Twitter!
Why?
There are so many reasons why!
Connecting with other educators to discover best practices and ideas is INVALUABLE! Especially during a trying time like now, when many educators may feel distanced from colleagues and teacher friends.
Taking time to reflect on current practices. "Even best practices are in constant need of reevaluation. As the world changes, so must the experiences we provide our children." – Innovating Play, Chapter 3
Spark inspiration and get motivated! – You never know what ideas you can come across that can spark inspiration for you!
As former moderators of the #GAfE4Littles Twitter Chat and #InnovatingPlay #SlowFlipChat, we know how a consistent invitation brings educators together and keeps communities strong. We are excited to get a chat started again! We feel that the format and frequency are do-able and friendly for educators.
How (do Twitter chats work)?
In a Twitter chat, a moderator asks questions throughout a given time on a specific hashtag and chat participants respond. The moderator will ask questions with Q1, Q2, Q3, etc at the beginning of their tweets and participants will respond with A1, A2, A3, etc along with the hashtag, in this case it is #InnovatingPlay. It is encouraged that you comment or respond to participants' answers so you can expand your PLN (professional learning network)!
We will post the questions in advance so that you have some time to think about your responses. We are even sharing the times the questions will be posted, so you can think about your answers in advance OR schedule your answers if you are not able to attend during the actual chat time!
Setting UpTweetDeck
We are fond of using TweetDeck to participate in Twitter chats. You can set up your deck a little before the #InnovatingPlay chat starts (7 AM PST | 9 CST | 10 EST). Go to tweetdeck.com and sign in with your Twitter account information. TweetDeck provides suggested "columns" for you.
In a resting period (NOT during a chat), you might like to have multiple columns for your viewing purposes. During the chat, you really only want the most essential columns for the chat within your range of sight. That being said, you can either remove columns you don't need or reorder the columns. In the column header there is a filter icon
. Click on it to reveal more options and select Remove, if you want to close a column. We suggest leaving your notifications column open, so you can see who responds to your Tweets. If you want to reorder the columns, you can click on the vertical lines underneath the column number, and drag the column where you would like it to go.
Then, you will want to add a column for the #InnovatingPlay hashtag. On the left side, locate the "+" icon to add a column. Click on the magnifying glass and type in #InnovatingPlay in the search box and hit enter. A column with content from the #InnovatingPlay hashtag will appear. You can move the column wherever you'd like. Anyone who is participating in the chat will be using the #InnovatingPlay hashtag; this is how you will see the discussion.
Participating
At the start of the chat (7 AM PST | 9 CST | 10 EST), Christine or Jessica will post the first Tweet, which will welcome you and ask for you to introduce yourself! Participants usually include their name, their role in education, what district they are from or where they are located and of course #InnovatingPlay. When you spot our Tweet asking for your introduction, locate where it says Tweet on the left (or the feather and plus icon), and write a Tweet.
The pattern is similar when a question is posted. We will post questions with an image so they are easy to spot in the feed. When you see a question posted, you can respond with A and whatever number the answer is along with your response and #InnovatingPlay.
To respond to someone, click on the response bubble and type a response. Be sure to still include the hashtag #InnovatingPlay. You can also "like" or "retweet" a Tweet. Retweet means that the Tweet will re-post onto your Twitter feed.