When speaking engagements arise, and our schedules allow us to, we enjoy traveling to share about Innovating Play mindset with educators. This page has the most current listings of sessions and topics that we offer. Please email info@innovatingplay.world if you are interested in having us share at your school, district, or event.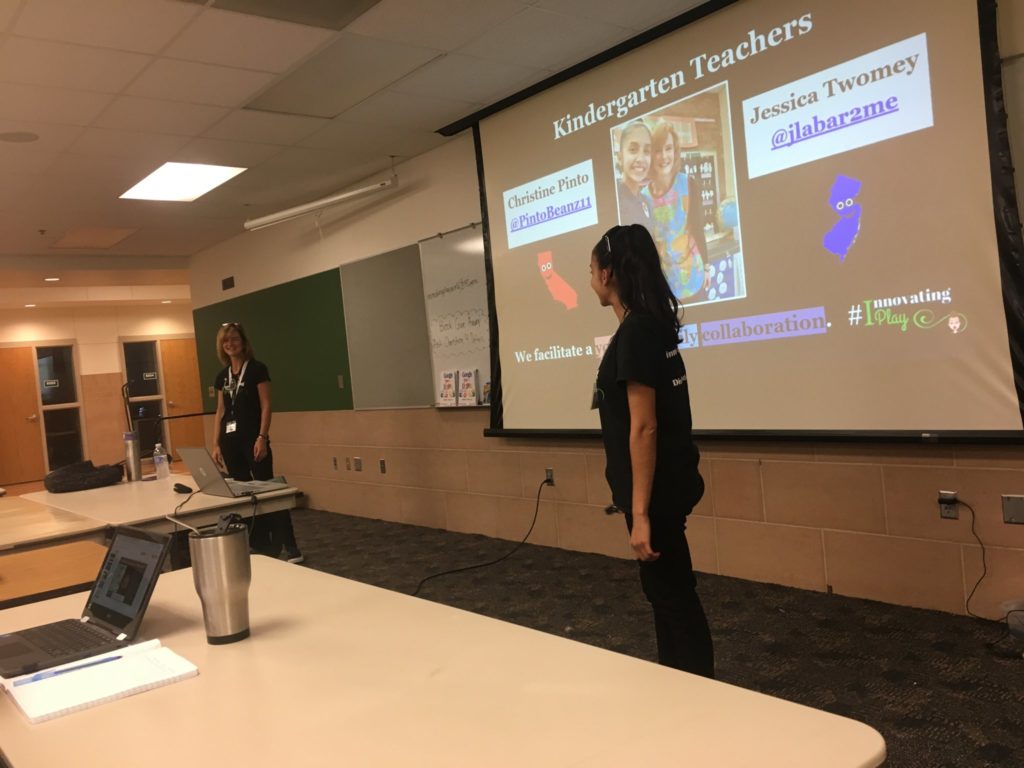 Innovating Play Session Topics
Discovering the Playground of Google Slides – Google Slides can play as a wonderful host for many learning experiences. Come check out how Google Slides can help with the organization of daily Morning Messages and Play Boards (for centers). You will also have the opportunity to interact within collaborative Google Slides, to experience what it is like for the kids to contribute to a collective slides presentation.
Connected Play – Learning synthesizes for kids when they get to ENGAGE in activities that are CONNECTED to a main idea. Kids need time to EXPLORE open ended activities and materials so they activate prior knowledge and make discoveries. What better time to do that than at the very BEGINNING of the school day? In this session you will learn what Connected Play looks like and walk away with ideas for blended learning AND facilitation/workflow through the use of Google Slides.
Daily Classroom Collaborations – Daily learning connections and routines can become meaningful when they go beyond the walls of your own classroom. Come learn how a California Class and a New Jersey class share the weather, days of school, and who needs well wishes. Featured tools for this session include Flipgrid, Google Sheets, and Google Drawing.
Ideas for Extending Reading – Extended reading builds on the concept of shared reading. It is a safe experience that allows children to connect the literacy skills and strategies that they are building within a real and meaningful text. This supports the bridge between the world of print and digital media so that children develop a rich perspective of literacy in their world. Come grab some ideas for CREATING these experiences for children! We will share how many of these experiences are set up in Google Slides.
Embracing Family Connections – So many AWESOME experiences happen in our classrooms with our students, and sometimes it can be a struggle to figure out HOW to share back those experiences with families. Moreover, families don't need to wait until an experience is over to hear about it, they can be INVOLVED with the process of learning. Come learn about some ideas on inviting families to engage in their child's learning. Featured tools for this session will be Seesaw and Google Sites.