Making Connections
We have had an ongoing class collaboration since October. The ongoing piece came AFTER some natural opportunities of connection. Jessica's class joined Christine's class in playing Guess the Sharing Item on Flipgrid. The kids were able to share items that they connected with that started with the Letter D, by coming up with clues for the item so the kids could guess what the item was. They took turns listening and guessing the items. Another opportunity for the kids to interact came with Jessica's November Invitation to Play, which included a Lego Flipgrid. The kids were able to share their Lego creations and the imagination behind the creations.
Sparking Wonders
After those initial connections were made the kids and teachers shared that same stage of WONDERING in the Innovating Play process. As teachers, our first wonder came with how we could have an everyday connection with each other. That wonder was followed by giving the kids the time and space to share and report the weather daily. At that point, we were literally hearing what the kids were wondering, and wanted to give them a space to wonder out loud on Flipgrid, which gave the kids an opportunity to ask questions and respond to each other. After hearing the kids' wonders, our wonders as teachers continued:
How can we have a daily PRESENCE in a classroom across the country?
How can our children interact with each other, imagine possibilities, explore? How can they connect their learning about each other through concrete play manipulatives?

Moving Out of Wonderland with Block People
In a spontaneous moment, Jessica had the idea to print pictures of her kids and put them on blocks. Her kids learned their addresses and drew their houses to accompany their blocks. This paved the way for Christine to provide the same play experience for her kids. The block people play went beyond our classroom walls when we exchanged pictures of the kids, so that kids could include their friends from across the country in their play. We purely gave the kids these new pieces and the space to play. The learning and curricular ties naturally unfolded from there!
Reflecting on the Discoveries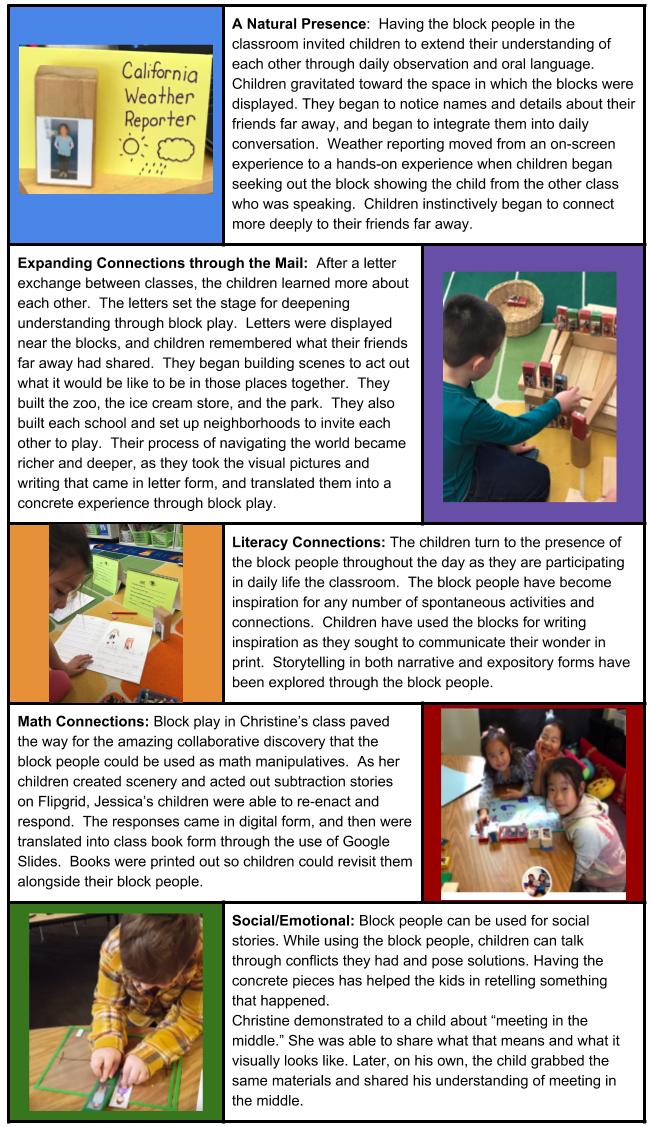 Supporting Research
One of our roles as educators is to facilitate learning in ways that are appropriate for their skillset and giving them room to expand on those skills and grow! There is so much value to giving kids the space to play with natural materials and their imaginations. Position statements from the NAEYC on Developmentally Appropriate Practice and Technology and Interactive Media support learning that has stemmed from the play with block people.
---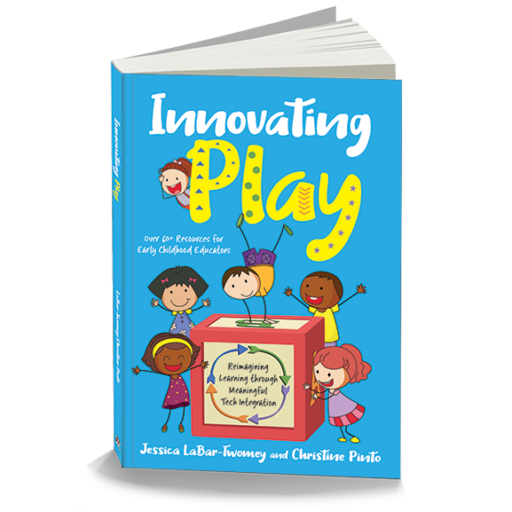 Interested in More Block Play?
If you enjoyed learning about block play, Chapter 6 of Innovating Play holds a section all about a Number Stories study our kids engaged in with their block people. It includes connected, hands-on activities along with a detailed lesson plan of the pacing for the duration of the study, and of course corresponding standards! The Innovating Play book is available on Amazon and Barnes & Noble.
Interested in More Playful Learning?
We have over 200 hands-on thematic activities to engage young learners with literacy skills. Click here or on the category image to the right to learn more!