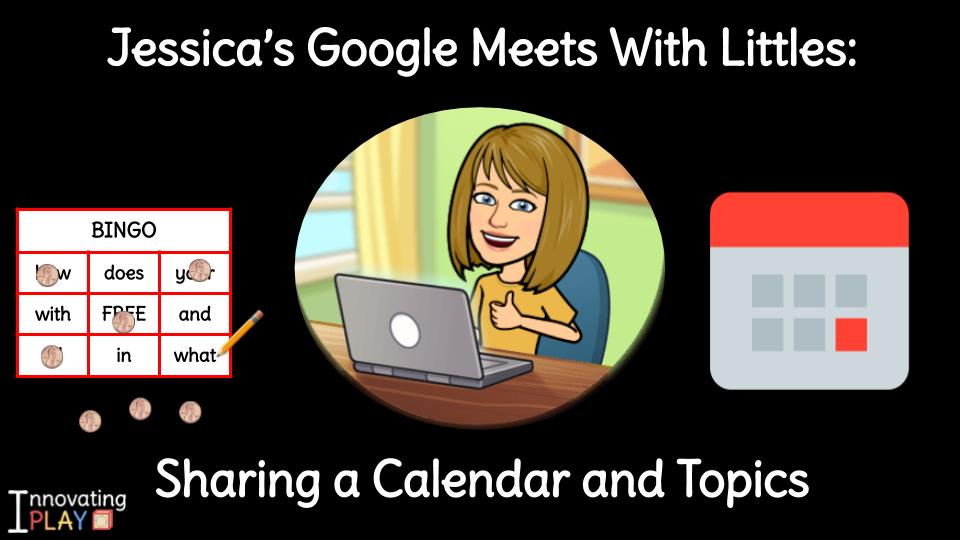 ---
The Purpose of My Google Meets
As primary teachers continue to explore options for balancing instruction for young children learning at home, there are a vast number of tools available to use. Like many other teachers, I knew the option of live meetings was a possibility. While I focused on setting up our foundation through other tools, I remained open to considering the benefits of a Google Meet when used in conjunction with other platforms.
We can begin by thinking about a digital live meeting in relation to what we know about learning and teaching in the classroom. This is the equivalent of whole group teaching time, when the children are sitting on the rug engaging in a community learning experience. When planning for a Google Meet, I took time to reflect back on that time in the classroom and asked myself about what I valued during that time. What were the strategies I utilized to foster community engagement and connection? A Google Meet offers the very relevant opportunity to guide and model what it looks and feels like to be part of a digital community in live time. My ultimate goal is to consider: What kind of activity/experience can I create that lends itself to everyone being included and connecting their ideas to the community of learners as a whole?
Organizing With a Calendar
With clear values and strategies in mind, activities can be selected that reflect sound educational decisions. One of the best decisions I made was to create a long term plan to balance our Google Meet time. This would allow my families and I to establish a familiar routine, expectations, and a sense of comfort in knowing how our meeting time would play out each day. This plan was communicated to families in the form of a month long calendar.
A key point to note here is that preparation of materials comes in two forms:
The first, is simply front loading ideas that will be discussed so that children know the focus topic and are prepared for participation.
The second is the gathering of hands-on materials that would be used at the Meet.
I set the clear expectation from the beginning that the only digital manipulation on the screen would be within the meet itself. This would allow us to stay true to the objectives of our learning time, rather than spending time learning how to manipulate a new digital tool. The calendar format shared in advance has helped to ensure that children, families, and teachers are all on the same page for this new learning framework.
My Favorite Topics
I have found that holding engaging live meets for young children works best for communicating and developing oral language skills, as well as collecting and analyzing data. My objectives often center around these ideas in math and literacy:
1. Sharing Experiences
Having children ready to share something from home that connects to a focus idea is a way for all children to feel like they are making a contribution to the learning environment. This can be connected to a skill such as a focus letter or number. Alternatively, it might be a concept that encourages rich oral language such as exploration of verbs, adjectives, or descriptive categories for objects. Allowing children to give clues before revealing their contribution engages all learners in the important tasks of listening and visualizing.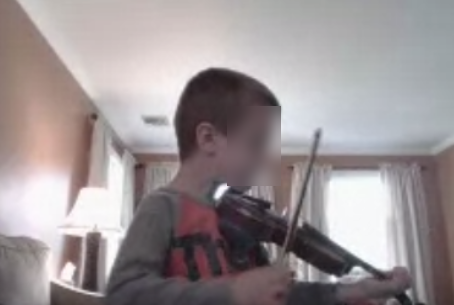 Facilitation Note: I offer children the opportunity to communicate that they are thinking as another child is sharing. This may come through a hand signal such as pointing to their head or a facial expression such as a smile and a nod to show that they have an idea. During our meet I give feedback on these visual cues just as I would in the classroom. "I notice that Joe is nodding his head and smiling. That tells me that he has an idea about what Diane is sharing and is visualizing as he carefully listens to her words."
2. Interactive Games
Games make for a really fun and engaging way to practice skills during a live meet! Sharing necessary materials ahead of time so that everyone is prepared makes for an effective use of learning time. I try to ensure any needed materials are simple and adaptable for what is available at home. Bingo and Mind Reader (guess the word) for sight word practice have been huge successes! The words that are selected are ones that are in our focus text for the week, and ones posted in our Playing With Words Board.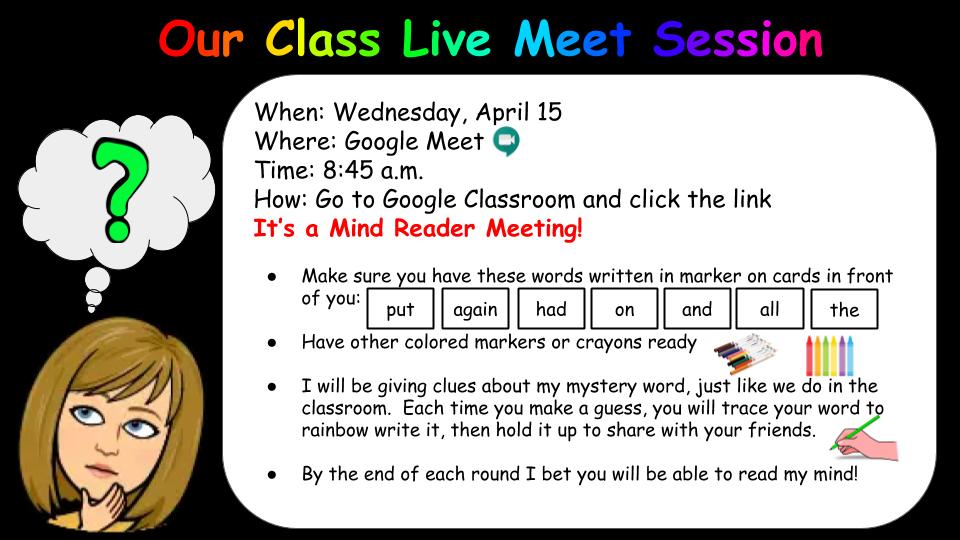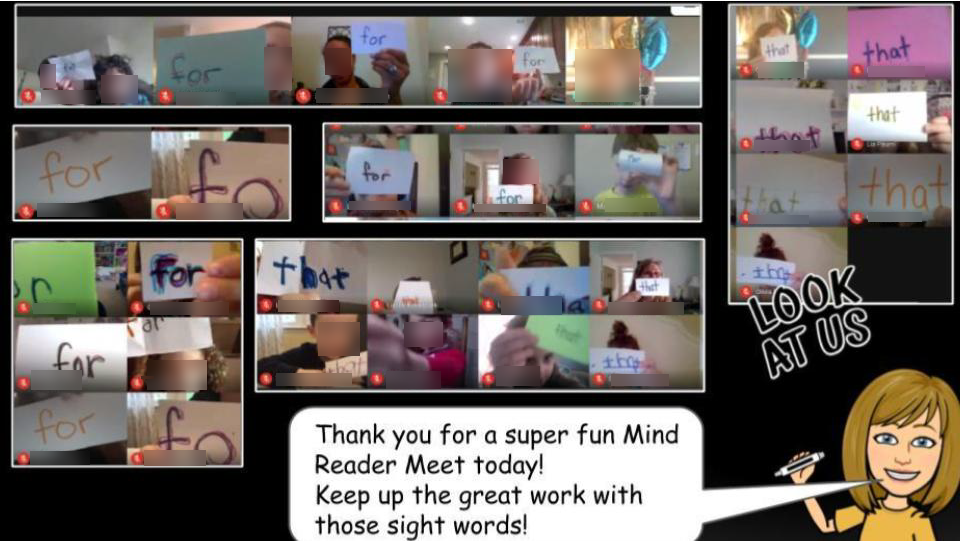 3. Opinion Sharing and Data Collecting
Live meetings are a wonderful opportunity for children to practice sharing their ideas in a space where they have full "speaker power."  Having the topic ahead of time means that children have had a chance to activate prior knowledge and prepare to share their ideas.  Each Friday for us is a "Talk About It" day for us which has the topic posted on the calendar.  (You can see the topics we have enjoyed in the calendar.)
As children share, I take careful pencil/paper notes on contributions and reflect back discoveries as we continue to work back and forth together.  Some topics lend themselves well to survey collection of data.  Other experiences build on vocabulary, observations, and connections.  This type of sharing experience often leads to a culminating visual or project to reflect learning back to students following the meet.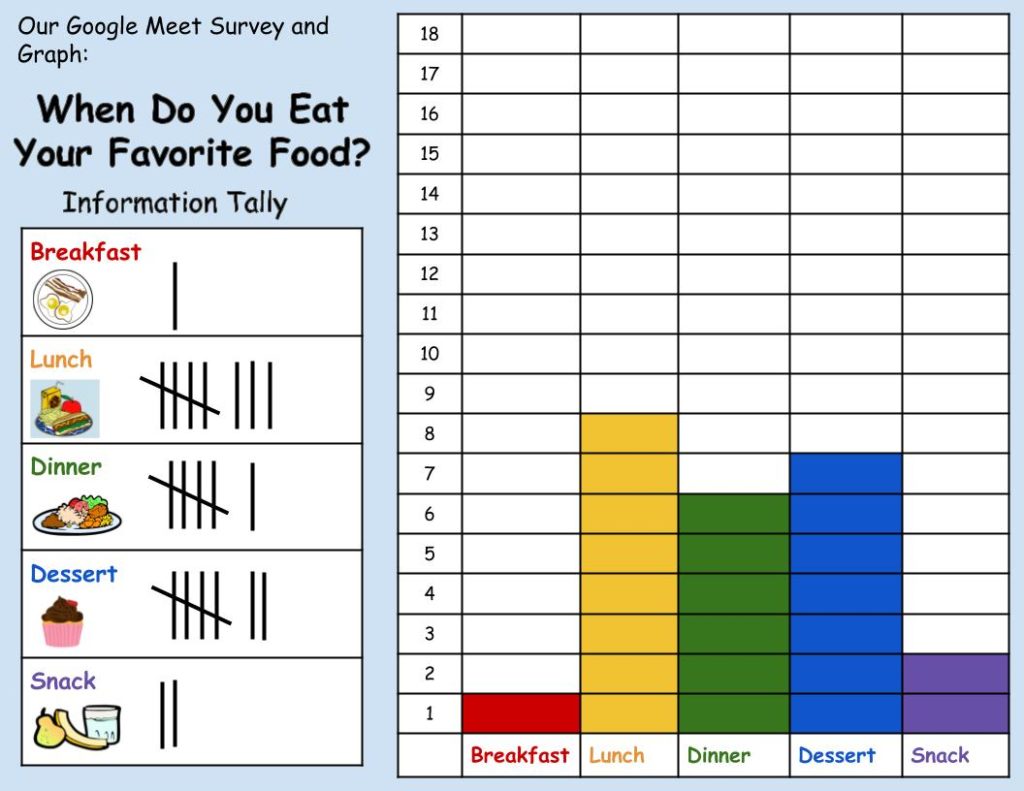 Balancing Experiences
Remote learning for young children requires careful balance of experiences, just as it does in the classroom. As educators, we carefully consider all of the pieces of a rich instructional day across content areas:
Digital/Hands-on
Active/Quiet
Movement/Still
Indoor/Outdoor
Whole group/Small Group/Individual
With that said, we now have a responsibility to see each experience we present through remote learning as a way to help children and families strike that balance. Live meetings can provide a piece to the puzzle we attempt to put together each day. In this space we can offer children the safety and comfort of being together as a community at the same time. Rather than using a Google Meet to substitute the classroom, we can see it as an important opportunity to use our learning and teaching time to model and guide life skills essential to the new cultural norm. We can stay true to what we know as best practices in order to make sound educational decisions, and equally as important, we can model for children what respectful live interaction looks and feels like on the screen.