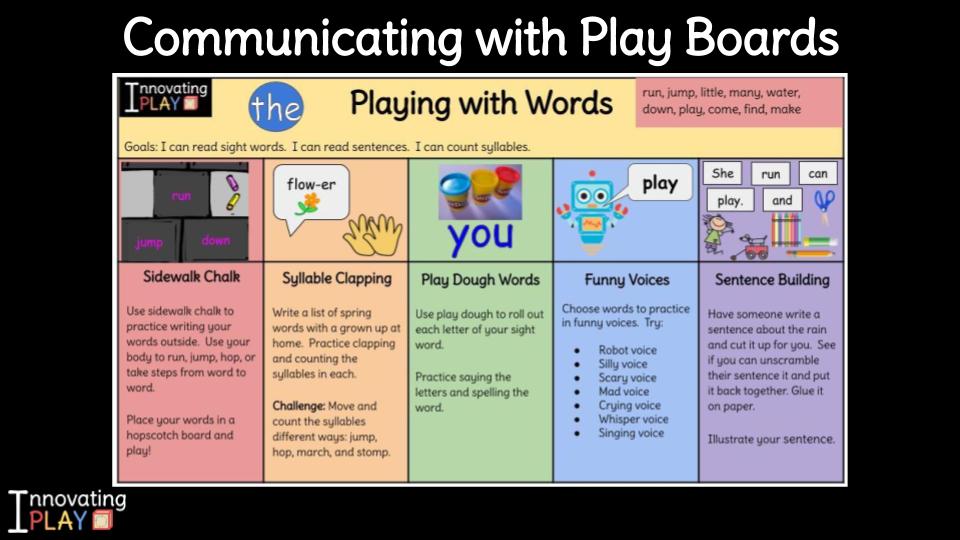 Many primary educators enjoy facilitating hands-on activities via centers in the classroom. This post is being written as many of us are teaching from home, but that doesn't mean that centers can't live on! How did you typically select centers when you were in the classroom…perhaps by theme, connection, skills/concepts? Let's transfer that idea to an "at home" setting!
Sharing Our Play Boards
While we were physically in school, we created play boards to host our daily Playing with Words centers. We would display the board of activities for the week, and students would know which centers they went to because their names were below the activities. Now, instead of a group of children's names, there are descriptions of activities so that grown ups at home can share with their children what to do. Every one of these activities can be done with limited materials at home, and are tech free. Technology is used to share and guide families, and for them to possibly document/capture their child's learning to share back. Playing and learning remain hands on.
If you'd like a blank copy of a play board, you can access it here:
If you appreciate these slides, consider checking out our Connected Play Boards and blog post that shares more about that experience we offered at school.
Customize Your Own Play Board
Do you have a different layout in mind or are curious about how we made our play board? Check out the screen cast below.
Share With Families
Locate the share icon and be sure to change the settings to "Anyone with the link can view." That link can easily be shared with families in a place that you message parents or post things for students. If you like to embed things on a class site, you can embed your play board slides by utilizing the "Publish to the web" feature located in the File menu.
Use Your Play Boards AGAIN!
One of the biggest advantages to learning how to organize centers with play boards, is that you can use them when you are back in the classroom. All you would need to do is add your students in place of the descriptions. Keep in mind, since the descriptions are done, they could easily be shared with families for follow up at home to share what IS happening in the classroom. During this time of teaching from home, instead of looking for substitutes to replace the classroom experience, let's lean into resources that will transfer back into the classroom and can be used to build family connections.
More Information in Innovating Play!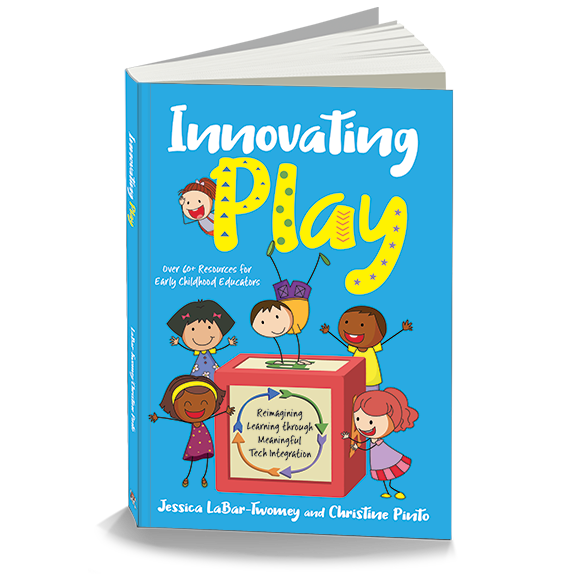 If you enjoyed this post, Chapter 4 of Innovating Play includes more ideas for literacy experiences. We share a week's view of balanced literacy through extended reading, tips for integrating technology with extended reading, and rich examples from our classrooms along with supplemental resources used. Chapter 7 of Innovating Play is dedicated entirely to Connected Play! In this chapter we share more about the different play types, ideas for connections, benefits for teachers and students, and a DEEP dive into blending tech with connected learning experiences. Not to mention, we also share a video of what connected play looks like in action and include a blank play board template for you to create on your own. The Innovating Play book is available on Amazon and Barnes & Noble.