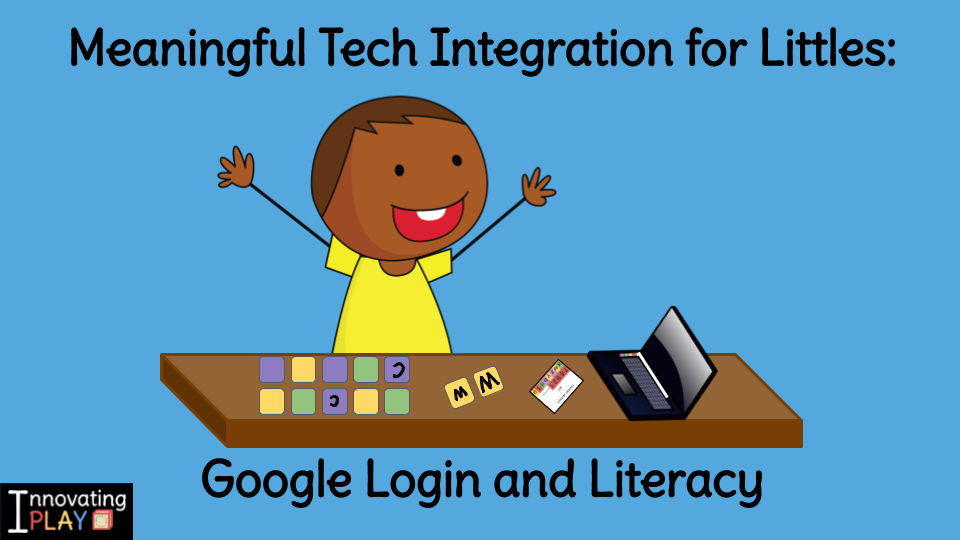 Empowering Kids to Login – From Anywhere
As we are thinking about the upcoming school year we know rituals, lessons, activities, support tools, etc will need to be redefined to function in both hybrid and remote learning models. With our students learning from home either part time or full time, the need to teach them to login to their Google Accounts comes at a much earlier time in the school year.

In the classroom, our kids have the support of login cards and colored tape on the keyboards. The idea can be modified in a number of ways. Instead of using tape on the keyboards, a transportable Login Color Key can be placed over a keyboard to support the login process.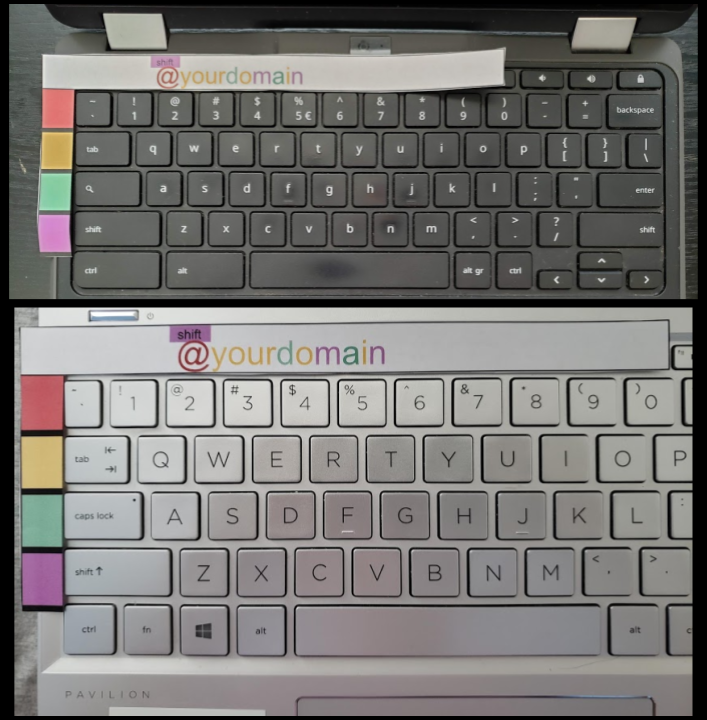 The benefits of the Login Color Key are:
It can be used on keyboards anywhere – at school or at home
It is a tool that is easily transportable
Eliminates the need for tape and applying tape to keyboards 🙂
Corresponds with colors on the login card
Enlarges the domain name (since it appears small on the login cards)
Fun fact: Jessica had this idea years ago and used it to help Littles login at school and support families with accessing Google accounts at home.
Defining the Purpose for Tools
Learning the procedures of using tools and defining the purpose for the tool with kids and families IS part of the learning. It's not an extra bonus that you throw in quickly. It is the focus and gets time and attention – just as routine and /procedures would get that attention in the first few weeks of school in the classroom. We like to use anchor charts to help communicate procedures to our students, even when we are introducing a tool. Families who are working at home with their children can benefit from these anchor charts, as they are learning about how the tool works and purpose of the tool right alongside their children.
You can learn more about our anchor charts and access all of Jessica's Sample Anchor Charts in this blog post.
Reflecting on Your Tool Selection Process
When it comes time for you to create your own anchor charts and think through the process(es) of the tools you use, check-in with these thoughts:
Are there too many anchor charts? Perhaps too many tools are being implemented.
Is there too much to fit into the sections for the roles of teachers and children/families? Perhaps that tool is not intuitive enough.
Having trouble thinking of why? Consider whether your time is being invested wisely.
More Thoughts of Advice:
If you can't be concise and transparent about the tool, it's not worth it!
If you notice that your whys are overlapping too much, too many tools are being used to do the same thing.
If you see the expectations you're putting on kids and families through those charts, you will get a sense of whether you are on track with asking too much. If they feel overwhelming, they probably are!
Anchor charts are meant to empower. They were used to empower students by nurturing their development of independence in the classroom. Now they serve a unique purpose in making learning transparent for all members of the learning community within and beyond the classroom walls.
Blending Google Login and Literacy Development
One of the greatest gifts we can give children and families is context and purpose for learning. There are many routines to establish as we support students and caregivers in developing comfort with how to use new learning tools. This can also be seen as an opportunity to weave learning and tech procedures together. The following experiences represent strategies for blending the Google account login procedure with development of real-world literacy and alphabet knowledge:
Morning Message: The message is an emergent literacy experience which provides children with a way to explore meaningful print. Establish purpose and a broader picture for learning by presenting essential questions for discussion and exploration within the message. This encourages curiosity and sharing of ideas as they relate to the learning focus.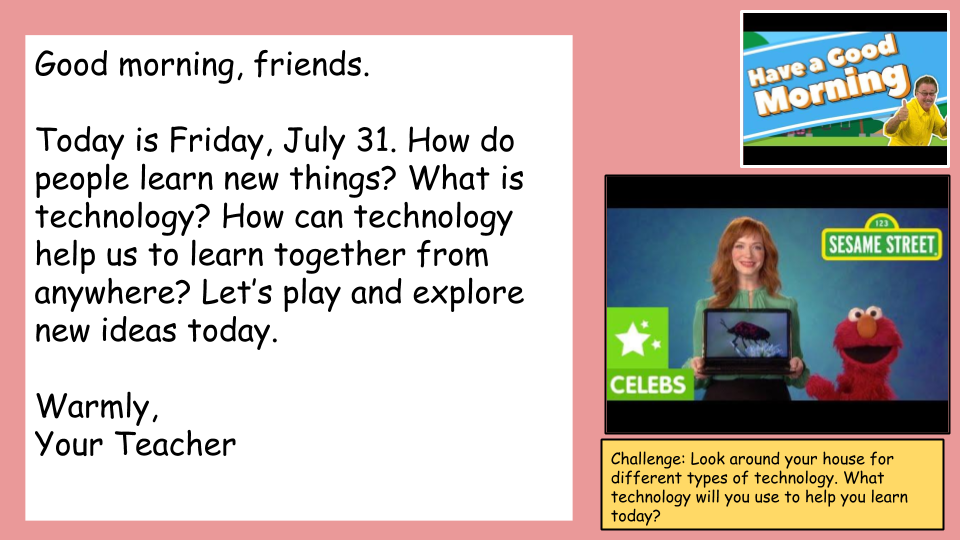 Exploration Warm Up Mini-Lessons: Develop observational skills and support active engagement by providing guided learning through music and hands-on experiences. Scaffold discovery by offering children the important opportunity to explore independently.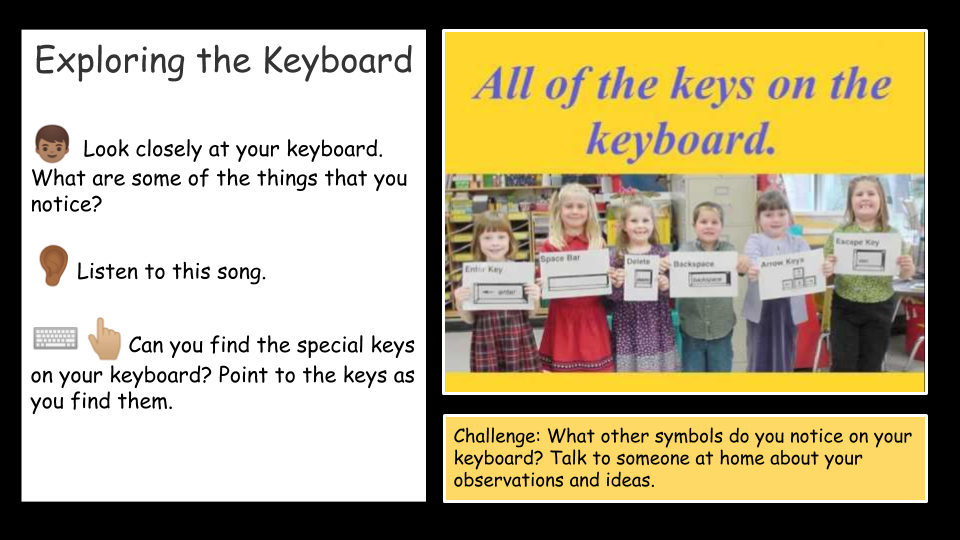 Focus Mini-Lesson: Blend literacy concepts (upper and lowercase letter exploration) with the login procedure to support children in making important connections to real-world literacy. Break down the lesson into: movement warm up, material collection, activities, reflection and teacher check-in.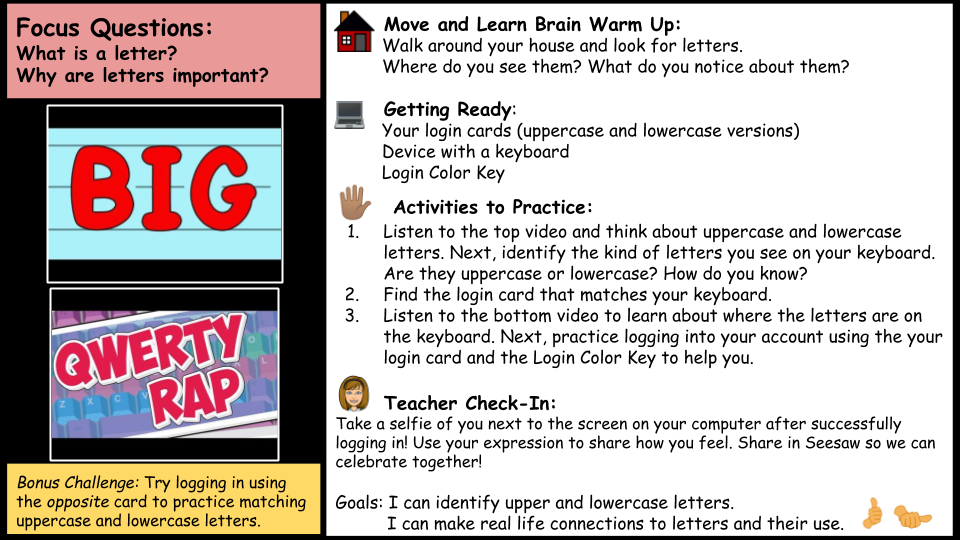 Playing With Words:

Use technology to offer directions and communication as you invite children to move away from the screen. Hands-on activities will solidify concepts of the login procedure, and continue to support development of alphabet knowledge. These represent play-based learning experiences and may be completed using a choice-based format.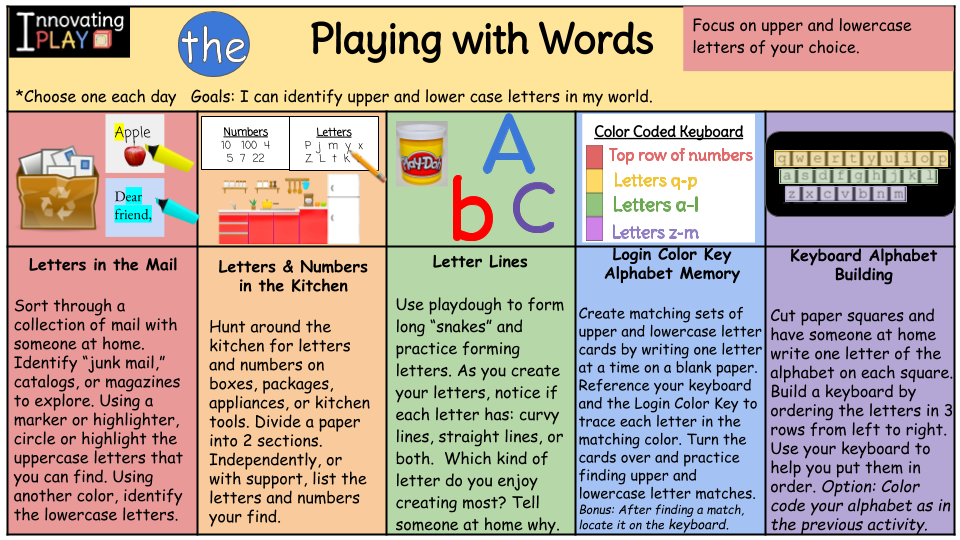 You can learn more about our play boards and access all of Jessica's boards in this blog post.
Sharing More Virtually!
We will be sharing more about these slides and our mindset during the Global Google Educator Group event. Check out this sign-up link from Melissa's tweet below.
Are you looking for some ideas for your Littles? 😊@PintoBeanz11 and @jlabar2me will share how they use Google Slides to facilitate early learning experiences ♥
Sign-up today 👉 https://t.co/U1Aj5MafV2
Tune in Live 👉 https://t.co/rO2bQdmDLu@GlobalGEG @TexasGeg 🎉 pic.twitter.com/U65UB1uLBw

— 🌟Melissa Summerford 🌟 (@SummerfordStars) July 23, 2020