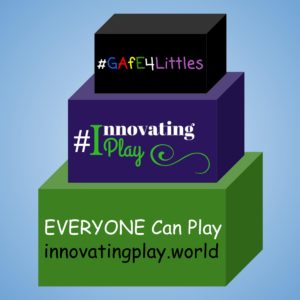 (Updated in 2021)
Magical things can happen when learners come together and play! Play holds the power to make connections, share ideas, explore possibilities, and discover each other. 
Something magical happened when the #GAfE4Littles (Google Apps for Littles) community came together to discuss #InnovatingPlay during the first #SlowFlipChat of 2018 (use code gafl001 if prompted for a code). Two visions found a space in which they flourished and played well together.  The #GAfE4Littles community has always been about the ways in which kids can learn and create, with technology as one of their tools. The #GAfE4Littles vision is more than kids using technology, it's about the ways that we BELIEVE in kids and trust them by not limiting their potential to the way that they learn.  We give them a variety of tools they CAN use to thrive in the time and space in which they live, regardless of their age.
#InnovatingPlay was created out of that energy and mindset to BELIEVE, because when we (educators, kids, admin, ANYONE) play together, meaningful learning emerges and ANYTHING is possible because there are no limits!
The vision for #InnovatingPlay is to VALUE play as a necessary part of creative and meaningful learning experiences. We NEED to prioritize 

connection, wonder, play, and discovery in conjunction with 21st century approaches to teaching and learning.
When we put these pieces together, we can innovate play for all learners in classrooms and beyond! #GAfE4Littles is a piece of #InnovatingPlay because of the mindset the visions share and values they hold at the heart. Careful consideration on the selection of tools we put into the hands of our students has always been in place with #GAfE4Littles. #InnovatingPlay connects the examination of tools to the bigger picture of purposeful learning by including play. If we begin with play in mind, kids are bound to make authentic learning connections. PLAY HAS A PLACE in the classroom!
Giving a Voice to Play:


#InnovatingPlay #SlowFlipchat
We (Christine and Jessica) took that new discovery and magic to make new connections with the #InnovatingPlay/#GAfE4Littles community so that play can have a voice! For a year and a half, we moderated the #InnovatingPlay #SlowFlipChat on Flipgrid. Check out the #SlowFlipChat page to view the archive of the chat. (We are now moderating the #InnovatingPlay chat bimonthly on Twitter. Click here to learn more.)
Creating a Shared Space
#InnovatingPlay is an ongoing process with a continuous cycle: Connect, Wonder, Play, and Discover. In thinking about the development of play, this is the cooperative stage! This kind of play HAS TO BE collaborative so that we can share ideas and draw inspiration from each other. We (Jessica and Christine) will be maintaining this blog together. We collaborate regularly as teachers and as moderators. We will be using this blog space to expose our process in working together and the experiences that come with it. We are sharing our concrete ideas, experiences, and reflections in hopes that we will spark ways for YOU to run with your own ideas!
Innovating Play is a process for teachers. It is a process for learners. It is a process through which we continuously support each other, and in doing so, we support ALL students beyond our classroom walls.