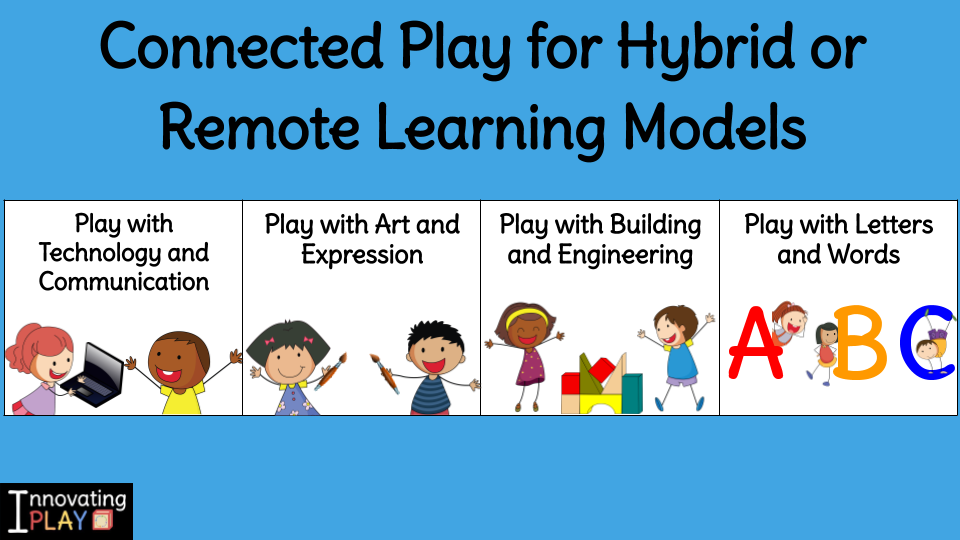 What is Connected Play in the Classroom?
Connected Play is a time dedicated to play-based experiences which create a sense of safety, stimulate natural interest, and foster the development of schema in relation to current learning concepts. As the first activity of the school day, it supports transition by helping children activate prior knowledge in order to engage fully in the focus experiences ahead. Connected Play opportunities are developed based on the ideas, concepts, themes, or specific texts that will be addressed during the day. In the classroom, this helps to quickly engage children in active and joyful learning experiences while offering encouragement to move through independent morning routines. After unpacking and settling into the day, children are able to independently identify their focus Connected Play experience using the projected Connected Play Board. Materials are prepared ahead of time, and are easily accessed by students so that children can maximize Connected Play time.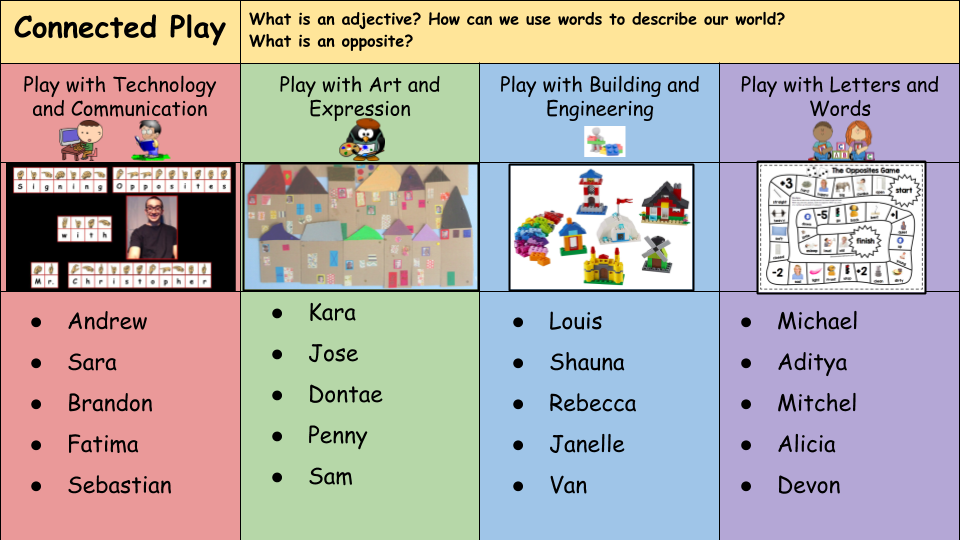 During Remote Learning, children also need the opportunity to transition into the school day. Although this part of the day may need to be adjusted to work within the family schedule, having Connected Play opportunities available at home can support children's engagement and depth of learning. Connected Play is what helps to weave together and solidify schema by offering joyful, hands-on experiences that support the broader picture of learning. These experiences also address a variety of learning styles and modalities, ensuring that concepts are rooted in rich opportunities for exploration. Connected Play provides important learning opportunities in any setting.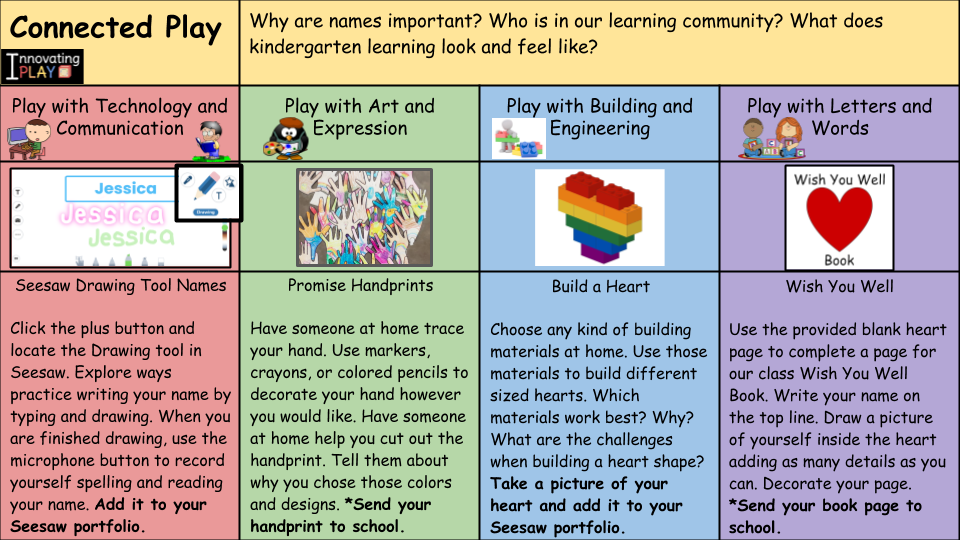 What Does Connected Play Include?
During the school week, Connected Play opportunities are offered Tuesday-Friday. This allows us to use Monday as a day for establishing the connection point. Connected Play experiences are introduced on Tuesday, and independently explored throughout the rest of the week. This ensures that each day begins by playfully re-establishing and developing learning connections, encouraging depth as the week progresses.
Communication & Technology – Technology tools are used to explore thematic ideas and concepts. There is a focus on independence, creation, and connection to learning experiences.
Art & Expression – Children use a variety of materials and mediums to develop academic concepts and connections through artistic expression.
Letters & Words – Additional literacy support for focus concepts and texts is offered through a variety of hands-on experiences.
Building & Engineering – Children engage in problem-solving through creation and hands-on materials that encourage exploration by weaving together the areas of science, technology, engineering, art, and mathematics.
Encouraging Connected Play at Home
Connected Play may be offered as an optional experience for children at home as part of the school day. Families are encouraged to implement Connected Play at home in the ways that work best for their schedules. In the classroom, we find that meaningful play-based opportunities can help to ease the transition into the day. Providing this transitional time at home is one way that families can help to gently establish this transition point as well. Offering time and space for consistent, joyful, balanced learning experiences to start the day helps to create a sense of comfort, and establish a pleasant routine to start the new day.
Below is information we are providing families to share some background about Connected Play and its importance, and how to prepare for the experience at home. Here is the link to this doc, so that you can use this with your families also.
Learn More About Connected Play!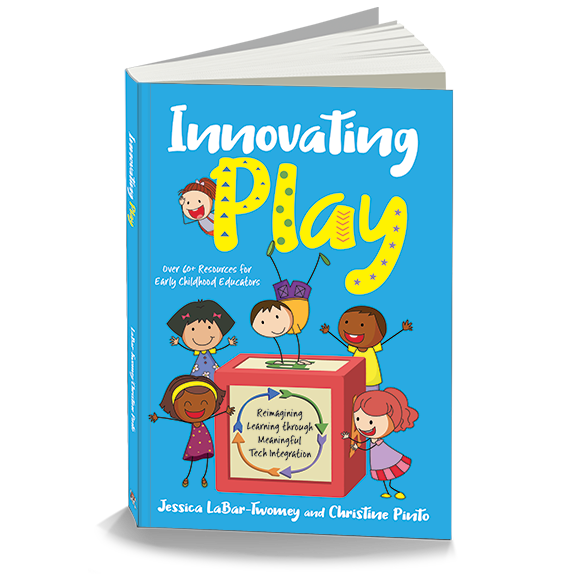 Chapter 7 of Innovating Play is dedicated entirely to Connected Play! In this chapter we give you our link to over 30 play boards (each board containing 4 center activities for various types of play). Additionally, we share more about the different play types, ideas for connections, benefits for teachers and students, and a DEEP dive into blending tech with connected learning experiences. Not to mention, we also share a video of what connected play looks like in action and include a blank play board template for you to create on your own. Innovating Play is available on Amazon and Barnes & Noble.
---
Our Connected Play boards are mostly built around the themes of nursery rhymes. If you are looking for more ideas for blended learning in your learning environment, consider checking out our Nursery Rhyme Resources.