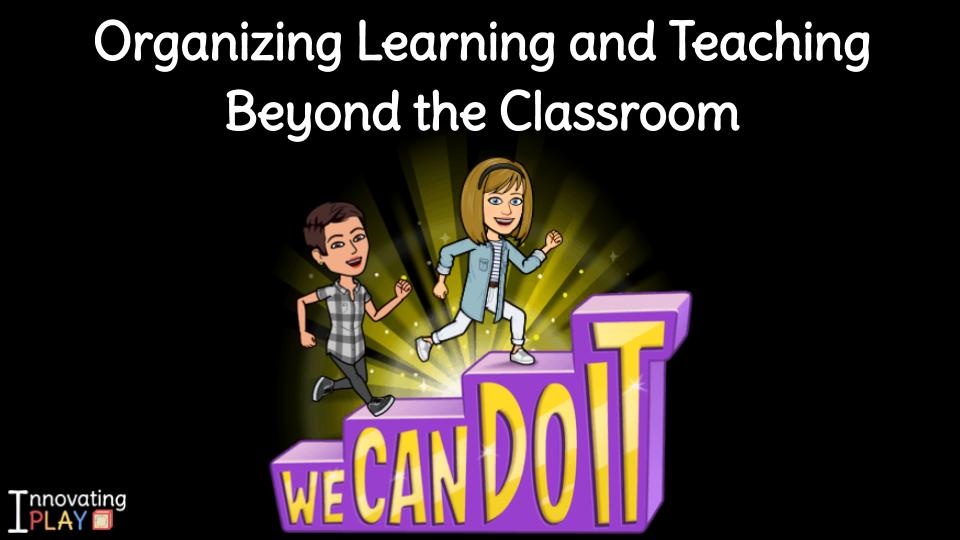 As we write this post in the middle of June, the school year is coming to a close or already complete and in the books! We can imagine the various reactions to the 19-20 school year ending, given all that was endured since March. Hopefully, educators find time to exhale with relief, and breathe and recharge over the summer for next school year.
It can be a challenge to wrap up this school year not knowing what the next school year holds. We all seem to be facing the same question of WHAT will things look like in the fall for school? Districts are sharing plans for various scenarios. Regardless of our positions in education, we are all trying to think and prepare for anything.
In this post we bring back our framework that we mentioned back in March for approaching learning and teaching beyond the classroom. We reflect on our approaches that worked in the classroom and transferred into our remote learning spaces. We also offer some organizational strategies and questions so that you can get ready to play too.
Ensure a Method for Communication is in Place
When we began remote learning in March, Seesaw was already established as a method of communication with families. Seesaw is designed with the intention of being child and family friendly, intuitive, and has the ability to work on multiple devices. It offers the advantages of capturing and communicating authentic learning, while providing flexibility and integrating seamlessly with other tools. The option of private messaging provides a place for individual guidance and feedback, and gives families an efficient way to reach out to teachers. For these reasons, we find that Seesaw is a great match for our classroom practices and educational values for both classroom or remote learning settings.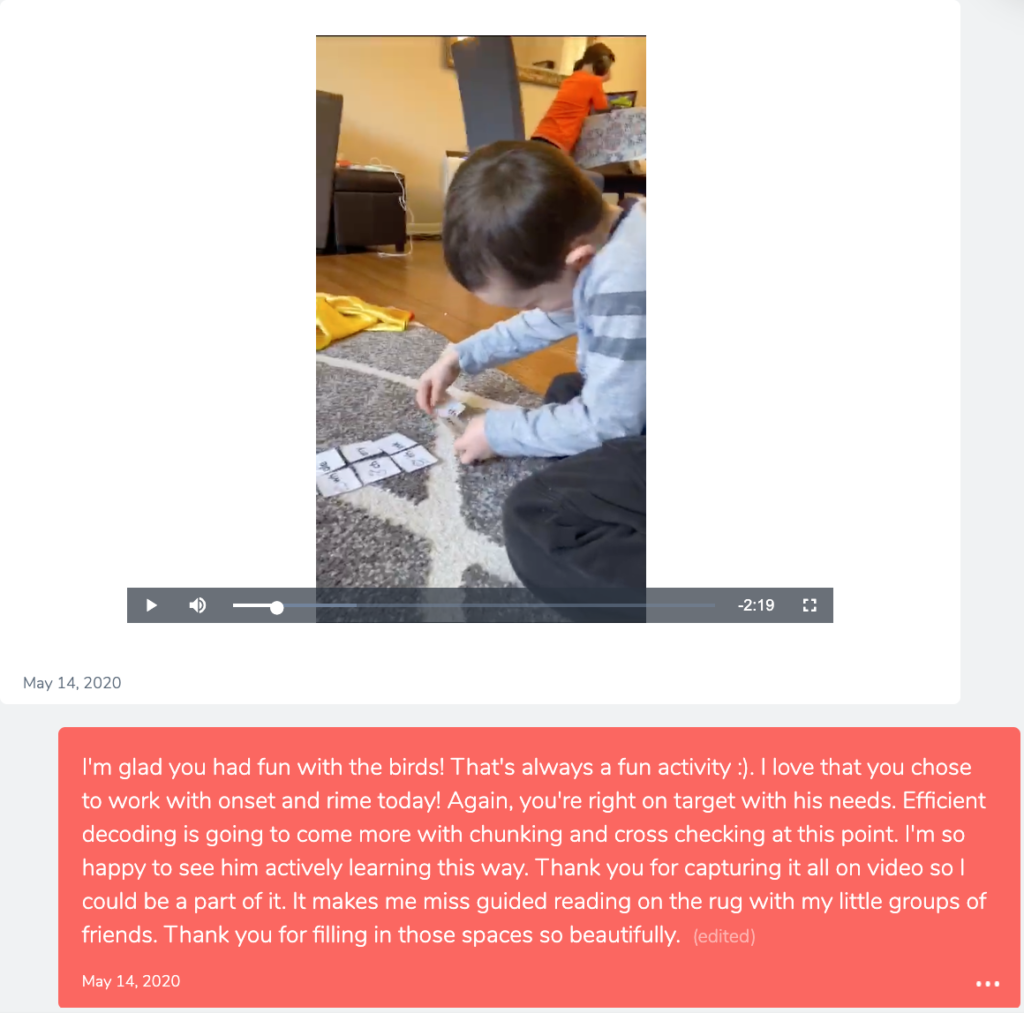 While Seesaw is meant to be used for back and forth communication, the summer months provide a wonderful opportunity to begin to prepare for next year. Rather than waiting until school is in session, families can be given the option to connect to their child's Seesaw portfolios prior to the start of the year. One of our favorite things to do is have posts waiting to greet families as they join us! In this screencast, you can learn about Welcoming Families Before School. Although the specific content of videos might be adapted depending on your school set up in the fall, the intentions remain the same. Welcome videos can help to establish a sense of security in knowing consistent details about their experience (who their teacher is, what consistent routines will be in place, what you value as a class, etc.) as well as a sense of excitement for the year ahead (which might be adapted for flexibility by highlighting special content that will be covered during your year together). As you explore the potential of Seesaw, you can access lots of tips and tricks that were shared in our #SlowFlipChat: Discovering the Seesaw Playground.
Get Ready To Play: What features do you seek to have for your communication tool? (Direct messaging, attachment options, etc.) Consider the features that are most important to you before you explore different tools. Set up a practice class and take time to develop your comfort level with it before the next school year.
Create a Home Base for Information
Throughout our collaboration between our classrooms, Google Sites has provided a consistent space to communicate with families. The ability to organize, maintain, and share an easily accessible space with families, regardless of location, made it an immediate win for us. When we shifted to remote learning, utilizing a site as a home base remained a perfect match.
One of the advantages of using Google Sites as we move forward is the ability to make a copy of the site and simply hide pages to provide a fresh start, while keeping the previous year pages to reference. Teacher time is precious, and as we navigate new processes and protocols in education, it is important to invest time and energy in practices that can transfer not only between spaces, but from year to year as well.
Get Ready To Play: Identify the consistent information that will be helpful for families to turn to as you start the school year together. What are the elements you will want to establish regardless of the learning set up? Explore the idea of Anchor Charts and Play Boards which can easily be embedded on a site. How could including these elements on your site support and empower families?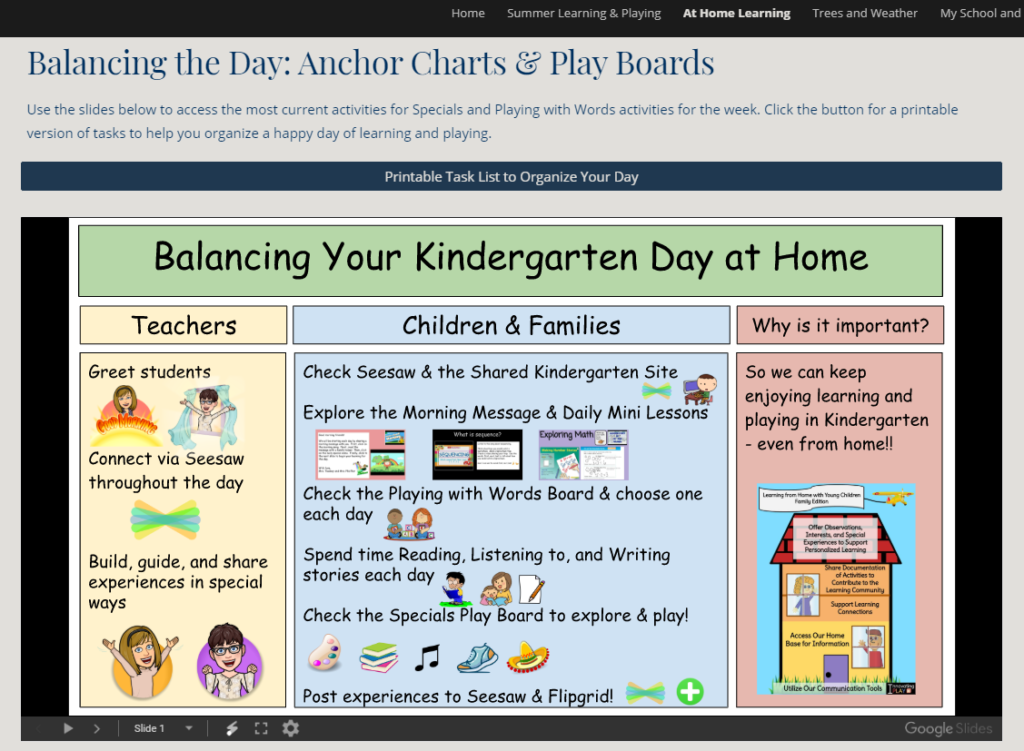 Develop Learning Connections
We love that Google Slides provides a blank canvas for so many different experiences that we build. Whether in the classroom, or learning remotely, we continue to discover the plethora of ways that this space can host directions and activities to guide rich learning that can happen from anywhere. The ability to include visuals, links, songs, and instructional videos makes it an open-ended, efficient, and creative space that can be shared and enjoyed by teachers, students, and families.
For us, Google Slides provides a space to develop, clarify, and explore connections. The fact that it is a digital space means that the highlighted connections can live, and be expanded upon, in any learning situation. Developing lessons in Google slides can enhance classroom facilitation or at home learning experiences, and can work for a hybrid learning model as well. Given the unknowns ahead, developing a comfort level with this tool helps to ensure that your time investment as a teacher is both productive and efficient.
Get Ready To Play: There are SO many ways to play with Google Slides! Take some time to explore the resources in this #SlowFlipChat: Discovering the Playground of Google Slides. Consider the ways in which these options could be adapted to use in any number of educational settings.
Offer Purpose and an Authentic Audience
As educators, we value authentic and meaningful learning experiences. We consider opportunities for student voice, along with the need to be heard, seen, and validated, as part of our educational responsibility. In our collaboration we have explored many ways to utilize technology in this area. Creation of digital books, videos, shared projects, and live meetings have always held a place in the work between our classrooms.
Book Creator, Adobe Express, iMovie, and a variety of Google Apps have provided limitless options for bringing our students' work together, and allowing individual voices to shine. Jessica shares some more insight in the post Extended Learning Experiences.  Even working remotely, we have been able to celebrate the contributions of ALL students in order to provide a sense of unity and purpose.  As the year came to a close, Jessica saw the abundance of creations that had been developed between her class and her kindergarten colleague's class in their 12 weeks of learning at home.  In order to further celebrate their efforts and contributions, she created a digital library in Google Slides which held links, images, and videos to ALL of their work in one place.  While each creation was shared along the way, the library brought students and families a space to reflect on their work, and see their successes as a whole learning community.
Get Ready To Play: There are lots of free and intuitive tools available to build projects that include the work of all students. Take time to explore tools and develop a comfort level with each interface. No matter what your learning situation brings as we move forward, selecting just a few tools with open-ended possibilities will be time well spent when you have limitless options to provide your students in the next school year.
Personalize Experiences
Differentiation of instruction is one of the challenges that teachers face no matter where learning is taking place. As collaborating teachers working from a distance, we are always exploring new ways to differentiate within and between students in our classrooms. For many of us, the shift to remote learning meant finding our ground with whole class instruction, and then moving toward considering more personalized and differentiated experiences. We quickly discovered that, just as we would tune into our students in the classroom to guide us, we would need to do the same in a remote learning situation. However, this time we would be considering and evaluating the needs of the individual students along with the needs of the family.
As Jessica sought to reach learners of all levels, she began to work closely with families and paired up or group children with similar emotional and/or learning needs when possible. For example, two children that were reading beyond grade level, were guided in a self-paced book club in addition to the whole class experiences that were being shared. Google Slides were developed with student input and utilized to guide instruction. Check-ins via Google Meets offered space to discuss and reflect, while inserting Bitmoji feedback directly on the slides brought lots of smiles and delight as children logged in to find what was waiting for them.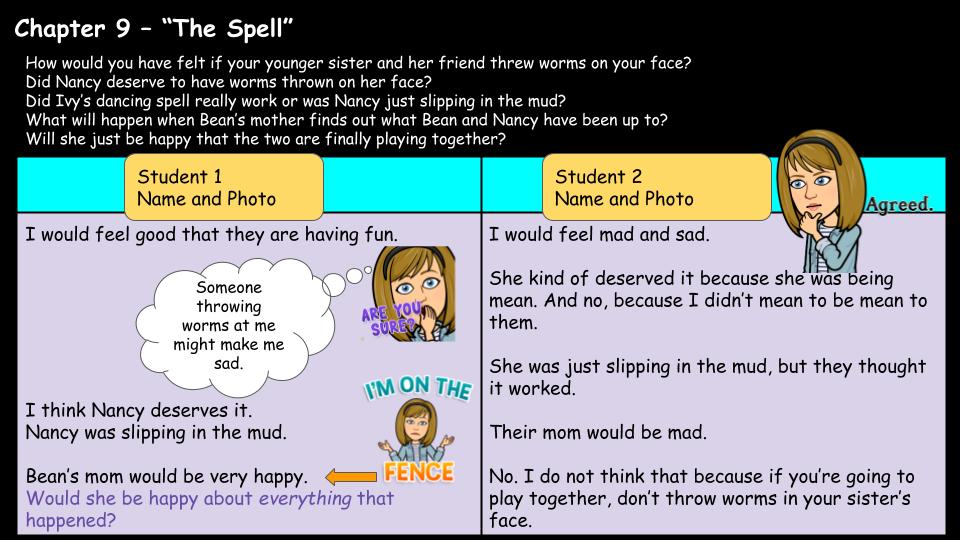 Get Ready To Play: Before the school year begins, consider the academic needs that generally come up while working in the classroom. Next, consider the family challenges that arose during remote learning. Take time to explore digital options that might help to support challenges. What proactive steps could you take as you prepare for next year?
Moving Forward
As we let our thoughts and experiences settle, we begin to wrap our heads around the idea of moving forward. Although this comes with continued uncertainty, it also comes with the understanding that we have a new base knowledge from which we can build and start fresh in a new school year. We have lived the challenges of being thrown into a completely new learning dynamic with limited time to prepare. We have navigated the unknown of figuring it out AND implementing it at the same time. We have developed strength, determination, and perseverance as a community of educators across the country.
After taking your time to recharge and relax, we invite you to join us as we move toward our next learning adventures. As we prepare to build our framework with a new set of children and families, we can take the opportunity to grow, to feel empowered with action for what is in our control, and stay true to what we know in our teacher hearts. Whether we return to the classroom with new guidelines, continue remote learning, or experience a new hybrid scenario, we can move forward with the knowledge that we have the tools, the resilience, the knowledge, and the passion for learning and teaching that can make it all work. Most importantly, we have each other and the understanding that no one has to make it work alone. We are offering a reflection sheet to help you think through and process your approaches to learning and teaching beyond the classroom. We invite you to share your inspiration, ideas, wonders, and discoveries with us on Twitter (we are @PintoBeanz11 and @jlabar2me) or email (for those who received this post via our subscription).