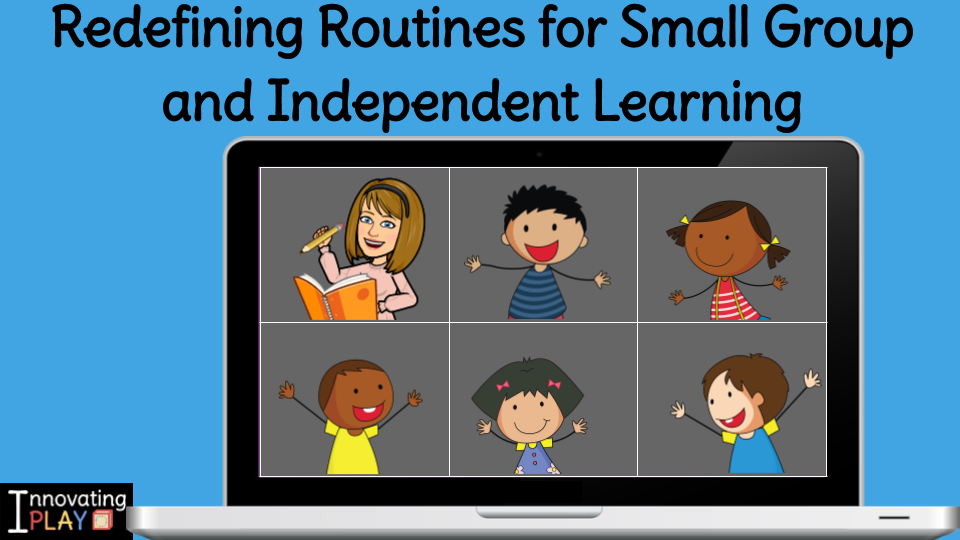 Preserving Instructional Practices
In the past, we used our Playing with Words centers in Google slides to communicate to the children which center they would be engaging in during our literacy block each day in the classroom. (Click here to learn more about how we communicate with play boards.) As we shifted to hybrid and full remote learning models, we carefully considered ways to preserve the elements of high quality instructional practices and facilitation that we value as educators of young children. We worked toward finding options and solutions by asking ourselves:
How can we continue to offer hands-on learning opportunities to reinforce concepts, skills, and strategies in meaningful ways?
How can we create a consistent routine that is easy for families and children to follow?
How can we offer guided instruction that is differentiated and personalized to meet the needs of learners?
Redefining Routines for Small Group and Independent Learning
In order to organize centers in a new way, we created a Google Slide that would allow us to offer children and families one place to reference all of their learning needs.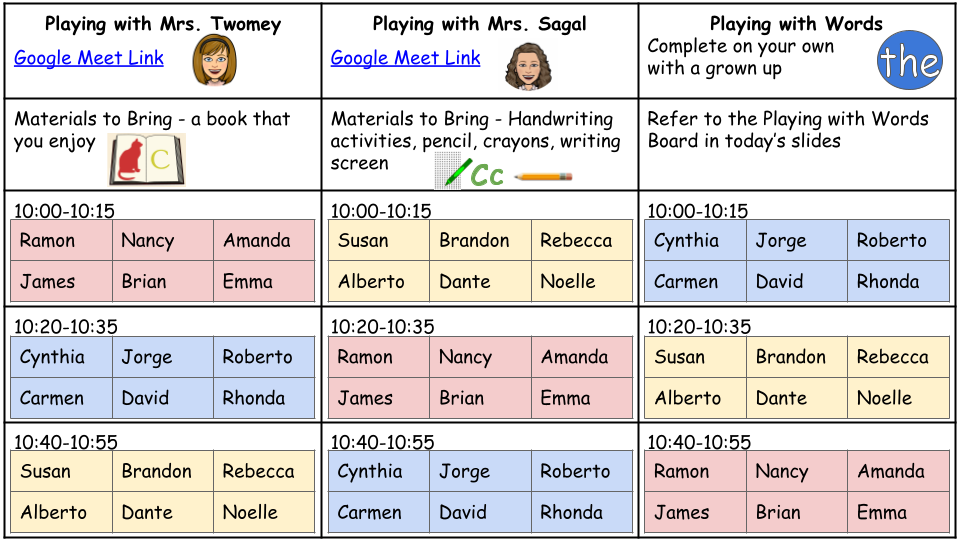 Features of the Small Group Center Board in Google Slides:
One hour of dedicated small group and independent learning time
15 minutes of instructional experiences for each group with a 5 minute transition time between
Color coded groups for children to follow through the dedicated hour
Google Meet link located right on the board (children simply need to click on the linked words on the board at their designated time and enter the meet).
Materials section helps children to prepare ahead of time so that instruction can begin right away
Our Playing with Words center boards are shared with teachers and may be used as is, or customized to meet the needs of your class. We update the boards as we create, so check back often to see what's new!
The same idea can be applied and adapted to support a weekly small group model. (See image below.)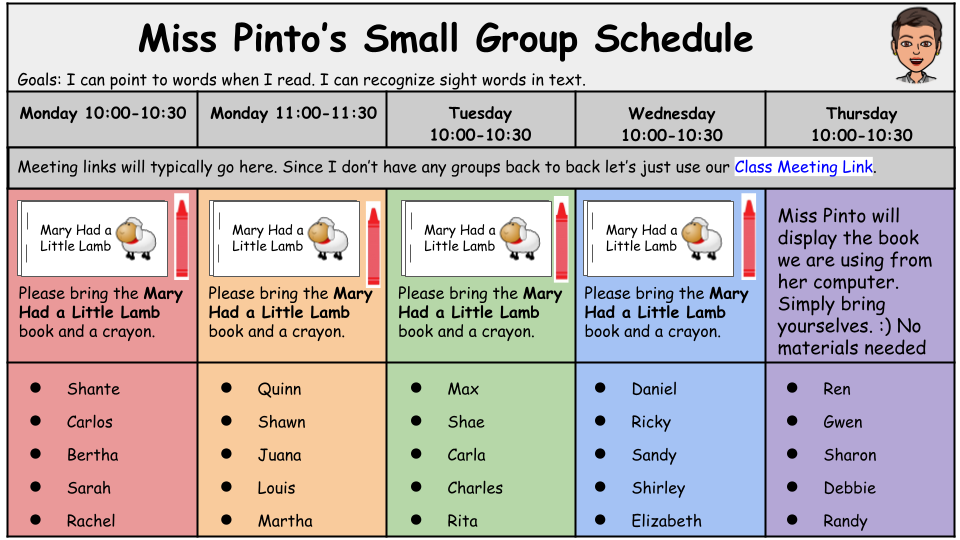 Reflecting on Facilitation
In order to prepare for the first day of small group instruction, Jessica prepared a screencast for her families which walked them through how to use the small group work slide along with the Playing with Words board. Frontloading the process with families ensured that everyone would have time to process, practice, and ask questions prior to the experience. This helped to relieve anxiety and increase the comfort level as caregivers at home are balancing the ways in which they can support their young learners alongside teachers.
Notes of the first day of implementation:
All three groups were able to successfully move from one small group to the next, and participate in their hands-on center.
Transitional time between activities allowed for any additional teacher support needed to help children move to their next learning space.
The pace of learning and engagement in small, focused activities helped to maximize time on task.
Small group experiences allowed for more participation and connection between the teacher and students.
The overall feeling of happy learners prevailed as teachers, children, and caregivers worked together to find solutions that match the current educational climate while supporting developmentally appropriate instructional practices.