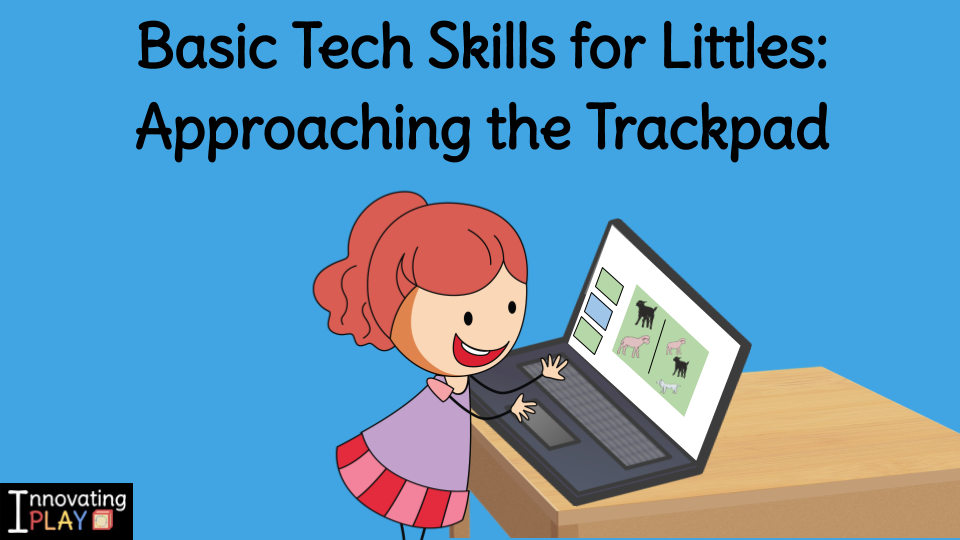 As we integrate technology into everyday learning with little ones, we are always mindful of weaving together meaningful experiences which include the basic skills needed to successfully manipulate digital devices and tools. While we strive to give our children lots of hands-on exploration with technology, we also set a strong foundation through daily modeling and thinking aloud when we facilitate learning experiences with our students. When we explore together, you will often hear us sharing specific strategies as we orally explain and model for our children such things as:
When I want to move around on my screen, I use my magic finger to slide around on my trackpad, then click to show the computer where I want to be. Clicking my magic finger down lets the computer know that I have found my place. I watch for the dancing line to see if it is where I want to be. (When you are about to type.)
Sometimes, an easier way for me to move around on my screen is to use the arrow keys. I click on the space I want to start, then use my arrow keys to move. This gives me more control of where I move around on my screen.
One of the things that we have found is that educators are noticing an increasing need to support dexterity and comfort with manipulating the basic features of tools such as the trackpad. While this need must be addressed, we encourage teachers to offer experiences to support learners in this area, while keeping learning connected and meaningful. We also consider the need for dexterity with technology as part of the overall fine motor needs of young children. Instead of focusing on keyboarding or trackpad skills in isolation, we attempt to create a balance of fine motor work to support overall healthy growth and development.
Mary Had a Little Lamb Sorting Activity
Mary Had a Little Lamb is one of the first nursery rhymes that we study. As part of our Connected Play time, we include a variety of thematic activities that address learning concepts, as well as fine motor needs in different ways. Children are encouraged to cut, glue, build, and explore sensory experiences along with manipulation of objects on the screen. This balance is very intentional in that it supports the overall development of the children and offers them integrated experiences which will build a foundation for the learning that will take place throughout the day.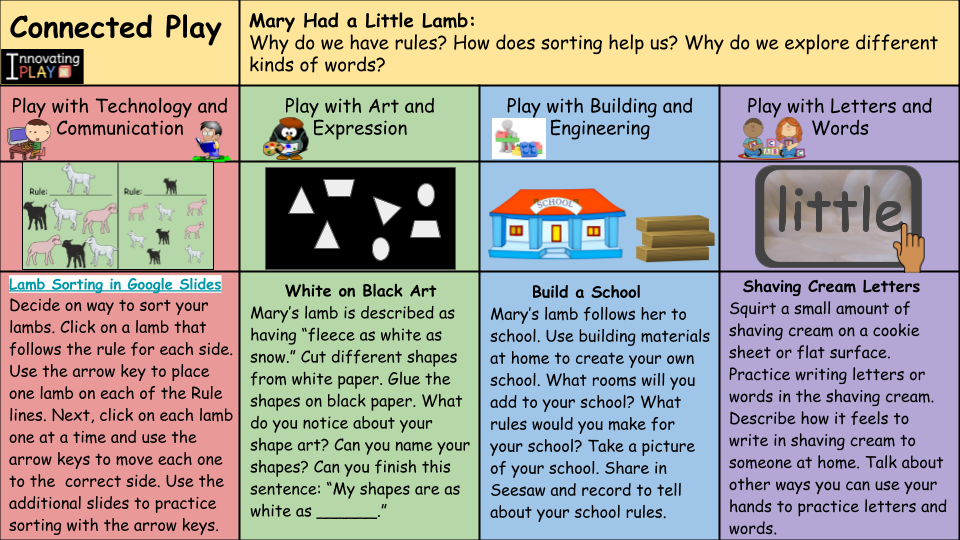 In the Playing with Technology center for Mary Had a Little Lamb, children are tasked with moving objects in Google Slides to create their own rule(s) for sorting. The connection is thinking about rules, as Mary brought a lamb to school which was against the rules. By clicking on lambs and using the arrow keys to sort them on the screen, children are able to develop dexterity and create visual documentation of their thinking. Other sorts in this activity are also available, including concepts of print (letters, words, numbers) and shapes.
Click here to access the lamb sorting activity.
Exploring the Trackpad Through Educational Games
There are many wonderful and motivating free games available for children to explore use of the trackpad. One of the best ways that we can make use of the resources available to us, is by considering the context that we can provide surrounding the experience. Here are some additional ideas for practicing trackpad manipulation within meaningful learning experiences:
Have children practice name writing with dry erase boards, letter beads, or rainbow writing. Then have them practice finding the letters in their name using Starfall ABC Blocks. Alternately, have a copy of a rhyme or poem in front of the child. Have the child use a highlighter to highlight and name letters. As they highlight each letter, have them identify the letter block and explore the letter and sound in Starfall.
Learn the nursery rhyme Pat A Cake. Practice coordination and letter identification by clapping out the rhyme. Have children create upper and lowercase letters out of playdough. Let them design their own cake in this PBS Kids Game
Simple repetitive songs make wonderful emergent reader experiences. After learning a simple song together, invite children to play in one of the Chrome Music Lab Experiments to practice trackpad dexterity as they create their own musical experiences.
---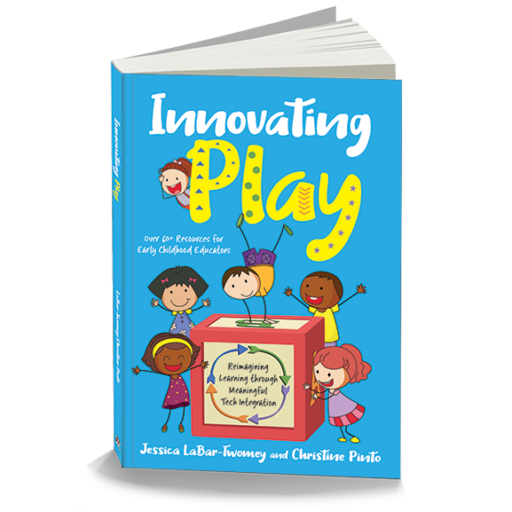 Chapter 7 of Innovating Play is dedicated entirely to Connected Play! In this chapter we give you our link to over 30 play boards (each board containing 4 center activities for various types of play). Additionally, we share more about the different play types, ideas for connections, benefits for teachers and students, and a DEEP dive into blending tech with connected learning experiences. Not to mention, we also share a video of what connected play looks like in action and include a blank play board template for you to create on your own. Innovating Play is available on Amazon and Barnes & Noble.
---
If you found this blog post and provided ideas helpful, you might also be interested in exploring our other related resources. Simply click on any of the category images below to discover more!