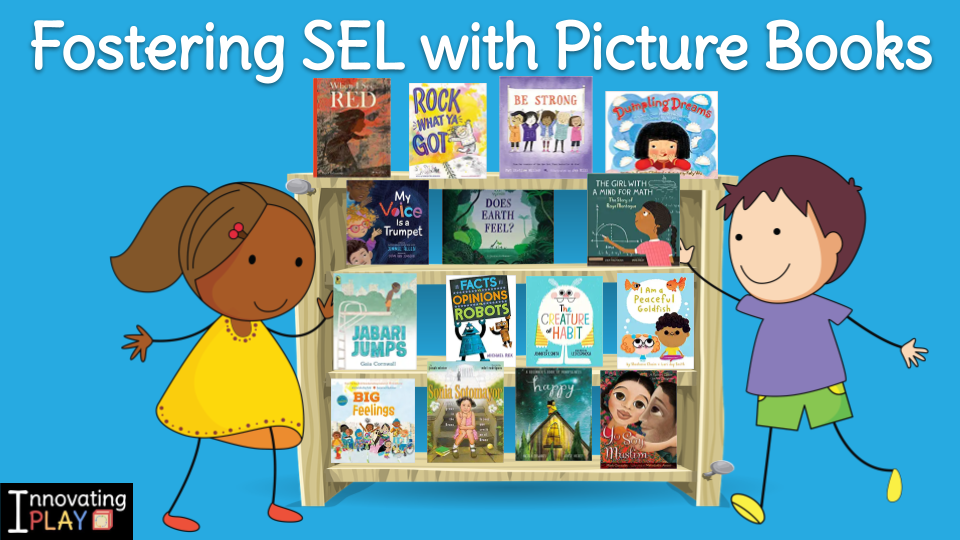 We had a wonderful Twitter chat with the #InnovatingPlay community about fostering SEL (social emotional learning) with picture books. Over 30 books were shared! We collected them in this doc. These are the discussion questions that educators stepped up to reflect on:
What does SEL look like in your classroom?
How do you use picture books to help guide SEL?
Share some of your favorite picture book(s) that you use for SEL. How do you integrate them?
A1: SEL in my classroom needs to be three things: authentic, timely, and evolving all the time. In our classroom we take the approach of address it when it happens, and focus on why some actions and choices "hurt" our community and what can we do to "heal" instead #innovatingplay

— Kayla Lake Carlucci (@k_lake11) January 8, 2022
A2: I choose picture books that support our theme or topic from our morning meeting that we read aloud after lunch. Discussion questions and students comments during and after reading add to our SEL. Students make amazing connections! #innovatingplay

— Mary (@missmarykelley) January 8, 2022
A2: #InnovatingPlay
Picture books are an excellent way for students to connect with and develop empathy for people who are different from them and a way for them to see that they are not alone; others in our world experience the same emotions. pic.twitter.com/RhlhLP1aLh

— Brandee Green, Ed.D. (@brandeeg123) January 8, 2022
A2: I like to use a variety of picture books with diverse perspectives to help students identify with and reflect on positive self-awareness and behaviors. #InnovatingPlay pic.twitter.com/qIA7VmhnDe

— Tonya Coats 🌿 (@TeacherCoats) January 8, 2022
#innovatingplay #SEL A1: Books are meant for this!They are meant to teach empathy, perspective, love, & Help kids feel they aren't alone. I 💙 being a LMS bc of this. I try to make sure every culture and every situation is represented in our literature! Representation matters https://t.co/x4HYmDMo8v

— Mrs. Shannon (@jordanshannon__) January 8, 2022
I always come back to this study https://t.co/rS48nWbwhr when I think about my books and diversity. I actually pull out my books and put them in piles to see how my library holds up. #InnovatingPlay pic.twitter.com/LG4pOFNb32

— Mrs. Parker (@LWMrsParker) January 8, 2022
A3: Sometimes we select books to align with themes, traits, or studies, like with this MLK resource. This study was designed to accompany the character traits discussed in the Everyone Can Be Great weekly reader from Scholastic. Also includes a writing piece!#InnovatingPlay pic.twitter.com/5353Ec9EVQ

— Christine & Jessica from Innovating Play (@InnovatingPlay) January 8, 2022