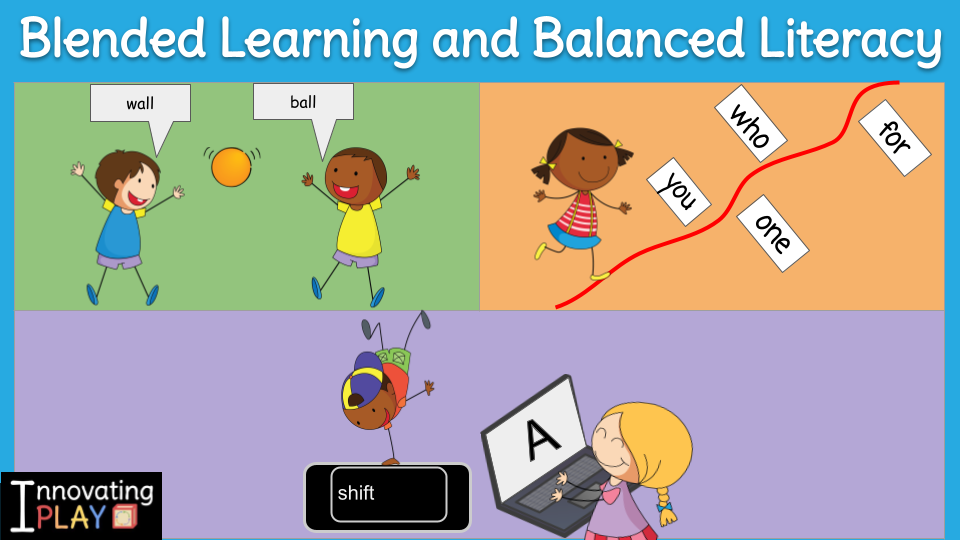 In our previous post we talked about Supporting Authentic Partnerships Between Caregivers and Educators. In this post we are thinking more about the role of hands-on and balanced literacy experiences in any learning model. When we began our collaboration, we found that using technology in order to develop ideas and experiences allowed us to grow as educators, and provided common ground between our classes. Common experiences, developed with each of our strengths as educators, meant that we would also have rich opportunities to weave student initiated discoveries and support an emergent curriculum as part of the collective work between all of the children. Having consistent formats, such as our Playing with Words and Connected Play boards, helped to ensure that children would receive a minimum of nine hands-on and blended learning experiences on a weekly basis to support learning and discovery. 
"How is what I'm having children do creating readers and writers?" – Regie Routman
When we are developing with technology, and focusing on literacy experiences in particular, we first turn to the balance of instructional goals and experiences throughout the day. We consider whole, group, small group, and individual needs. We consider objectives ranging from alphabet knowledge, to development of strategies, to comprehension, to written communication of ideas. We think about exposure to a variety of texts, and authenticity when presenting and engaging in literacy experiences. With all of these goals at the forefront, then we can take time to consider how to use technology in order for students to be creators and active participants by including digital formats as a part of balanced literacy.
Innovating Play Mindset
In Chapter 4 of the Innovating Play book, we explore the idea of Extended Reading and what it looks like when we leverage technology as a source of creation and exploration. We propose that digital tools may be used to truly immerse the children in the experience of reading and writing in new ways. This may come through organizational strategies which allow for efficient, personalized, and hands-on independent learning experiences that are communicated through play boards. This may also come through digital experiences which allow children to work with technology to visualize, reinforce, and expand understanding. Often, these opportunities are blended together creating an expansive overall literacy block.
Whatever the experience, it is critical that the use of technology is not used in isolation, but adds and elevates to broaden imagination, accessibility, and reach learners in ways that inspire active participation in the literacy and learning process.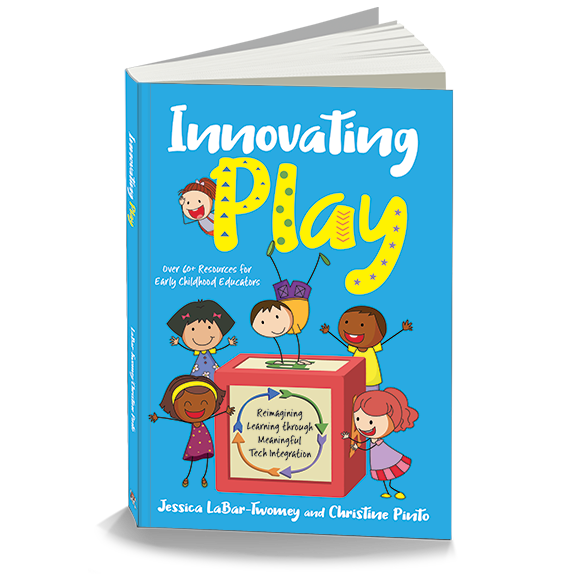 Think About It, and Share with Your PLN!
Share your strategies with us and the Innovating Play Community! We posted this prompt on Facebook, Twitter, and Instagram. You are welcome to click on the links to the posts and respond or share directly on your feed! Just be sure to tag us and use the #InnovatingPlay hashtag.
Connecting #InnovatingPlay Twitter Chat
We hosted a twitter chat with the topic: Reimagining Literacy for Young Children. Check out the Wakelet below or access it here.