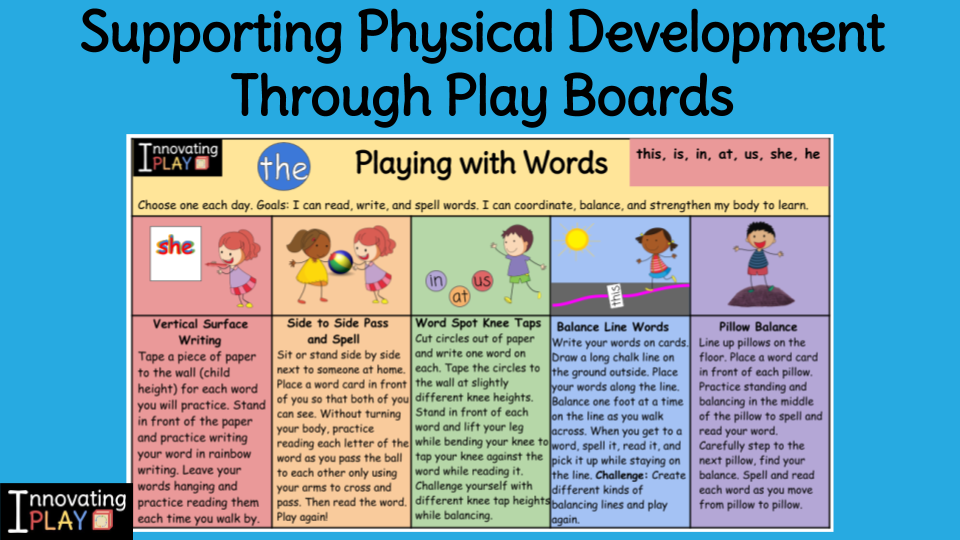 Creating Balance for Young Learners
As early childhood educators, we have always sought to provide a variety of experiences for our young learners each day. Whether working in the classroom, or offering guided experiences for remote or hybrid learning, we continue to value the overall development of the child. This means that we must constantly consider not only the objectives from an academic perspective, but the learning goals for the physical and emotional development of the child as well. Instead of seeing these experiences as separate, we try to integrate skills, strategies, techniques, and approaches so that children receive opportunities for rich, joyful, and balanced learning throughout the day. While this has become more challenging with remote and hybrid learning, we have discovered that there are wonderful ways to continue to provide these experiences which support and protect the development of our young students.
Providing Active Learning Experiences
In previous posts, we have introduced the idea of Communicating With Play Boards. We are always looking to expand the use of these boards to truly reflect an intentional balance for developing learners. As kindergarten teachers, we often turn to the advice and guidance of professional Occupational and Physical Therapists when considering the physical needs of children as they learn and grow. With the increase in screen time that is associated with distance learning, we have found the techniques suggested by the PT/OTs to be more necessary than ever. Using the wonderful resources and ideas from sources such as Pink Oatmeal, this particular Playing with Words Board was developed with the specific goal of helping children to coordinate, balance, and strengthen their bodies as they participate in learning.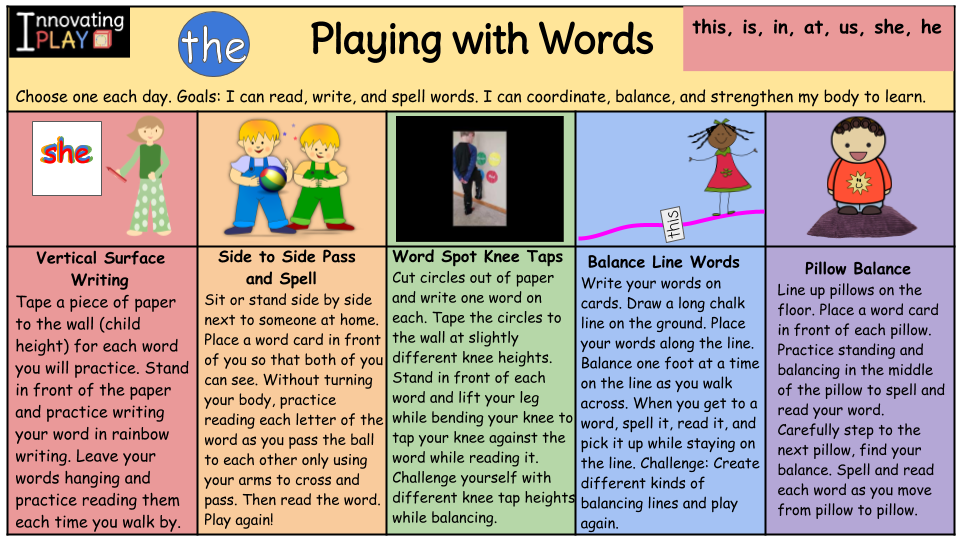 Documenting Physical Development Through Tech
While technology offers us the place to communicate and guide learning experiences, it does not need to be the space where the children spend the majority of their active learning time. We have found that, for young children in particular, one of the most valuable ways to use tech is to capture learning through photos and videos. Tools such as Seesaw provide child and family friendly options for building learning stories in a consistent space which reflect the overall development of the child. The opportunity to view the experience of the learner as s/he engages in off screen activities can truly help teachers to ensure that children and families are receiving the guidance they need to support healthy overall learning and growth.
Supporting Research from the NAEYC
While many teachers of young children have found themselves using technology to facilitate learning out of the current necessity, available research from sources such as the Position statement from the NAEYC on Technology and Interactive Media can provide wonderful guidance and checkpoints for ensuring best practices as we navigate new ways of learning and teaching together.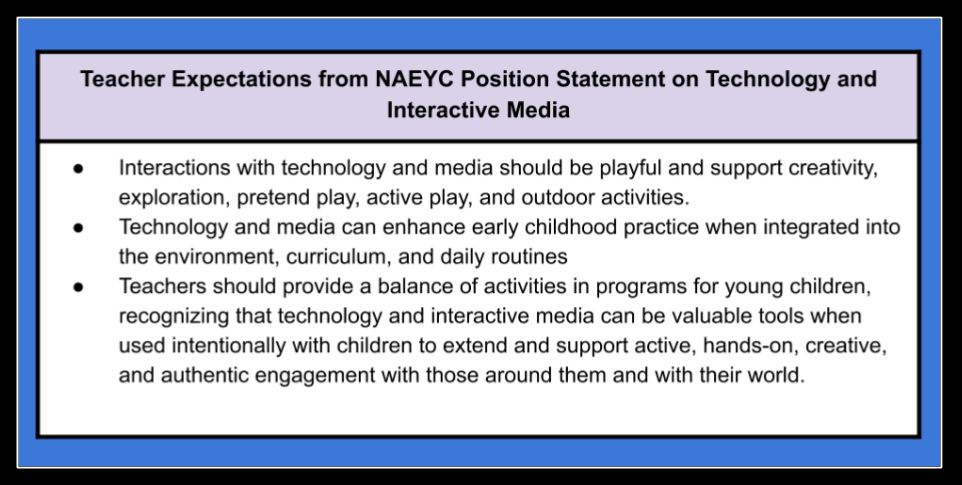 ---
If you enjoyed this post, you may be interested in our Playing with Words Boards collections. Click here or on the category image to the right to discover more!