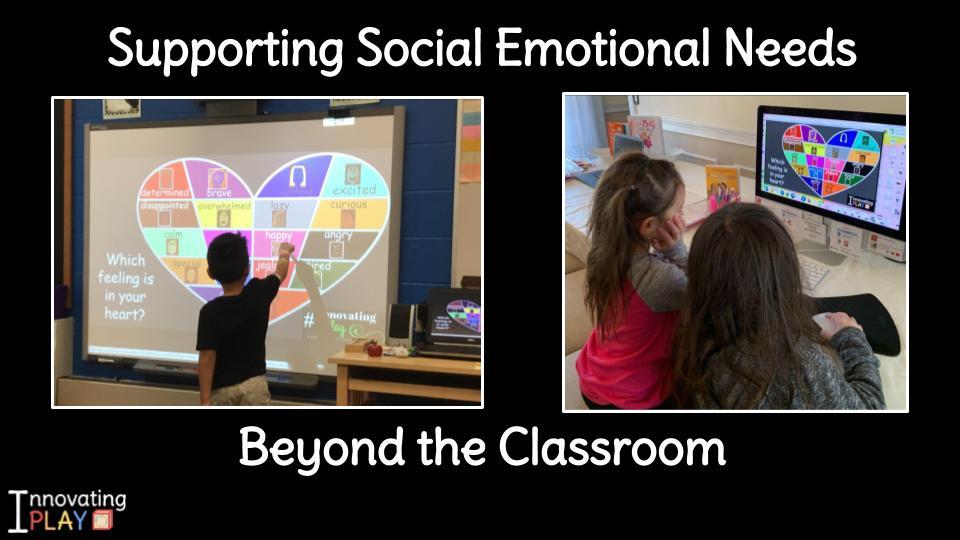 There are many ways that educators take care of their students and their needs in the classroom, but what does this look like when we are offering support at home? In this post, we share our approaches for nurturing our students' social emotional needs in the classroom and how we offer these resources to families so children can have access to them from home.
Feelings Check-In at School
In the classroom, one of our components during our Community Gathering time is our Feelings Check-In. During this ritual children share their expressions with the teacher and their peers. This involves everyone quietly noticing the facial and body clues of those around them. The teacher continues to facilitate this ritual by calling on a child to verbally check in with another peer to share what s/he notices about that child to try to identify their feeling. The child may say something like, "Her mouth is frowning, her eyes are not looking at me, her body is still…I think she is feeling sad." The class continues to check in with that child to find out more about his/her feeling, and as necessary offer connections, love, and solutions. The feeling is then explored via our Feelings Heart in Google Slides. Each feeling piece in the heart is linked to a selection of videos from GoNoodle meant to address that feeling. After selecting a GoNoodle experience, children participate together, then come together to bring closure by heading to our gratitude slide and share what they are grateful for. (This was a brief summary of one way to facilitate the Feelings Check-In experience. To read more about this ritual, visit our Community Gathering post.)
Sharing the Feelings Check-In Beyond the Classroom
As children began remote learning, one of the first tools we highlighted to our families was the Feelings Heart. Ensuring that our children had tools to help them feel safe in identifying and expressing their feelings appropriately was at the forefront when providing support and guidance to families. The link to the Feelings Heart can be shared in whichever communication platform or tools you are currently using with students and families (email, Flipgrid, Google Classroom, Seesaw, Remind, Class Dojo, etc.). If you have a website that you are hosting information for your families, you may also hyperlink the Feelings Heart to a button or as you see it fit.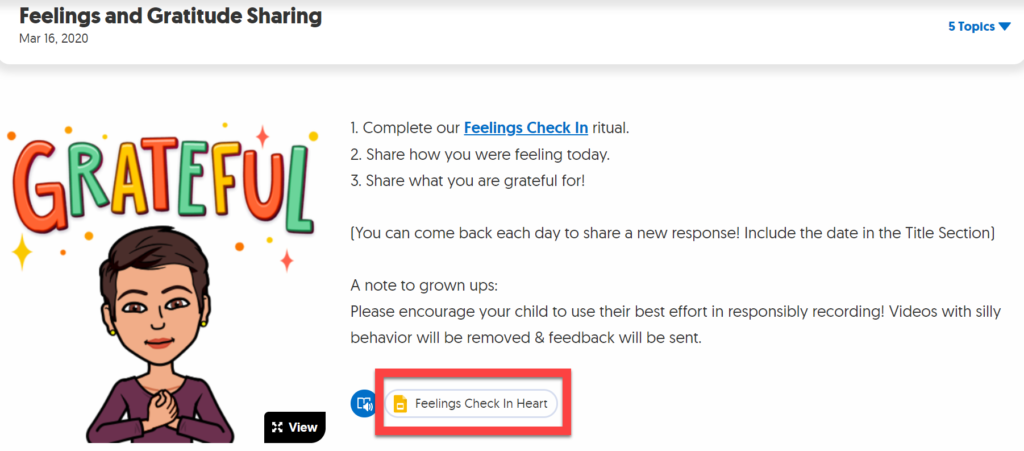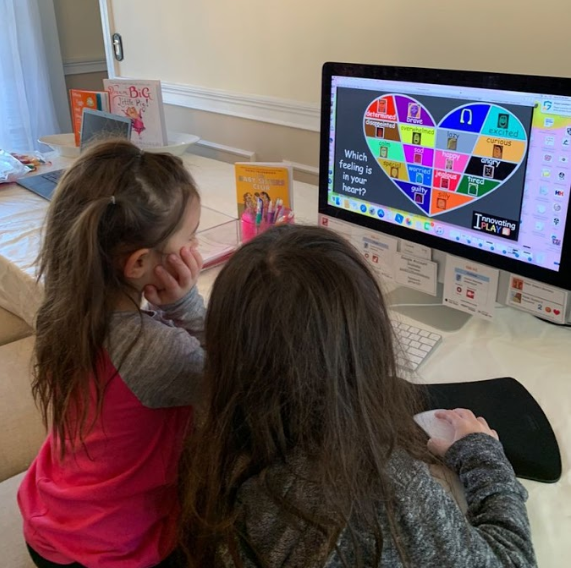 Parent Quote:
We have many mixed emotions lately. So this morning we used the feelings heart to describe ourselves! We had fun talking about why it's ok to feel that way and how we can help each other. We also talked about how each time we say hello on the phone to extend family and friends we should first ask them how they are feeling!
Peace Corner
In our classrooms we have a dedicated space called "The Peace Corner" to support children in identifying, self-soothing, and refocusing emotions so that they can productively engage in learning and interacting in the classroom.
This space is located in a quiet corner of the classroom where children use a five minute sand timer, visual reminders, and are provided a variety of sensory materials from which they can select when they are in need of emotional release or grounding. In this space, a special version of the Feelings Heart is available on a classroom device (we have found that it works most consistently on Chromebooks) for children to use independently as one of the focus options.
Offering Families Peace Corner Resources
In addition to sharing the link to the Feelings Heart, we created a Family Version of our Peace Corner visuals. This encourages the creation of a safe space in the home for children to practice navigating feelings. Shared language, spaces, and even materials between home and school can offer families and educators common ground for supporting children's emotional growth and development.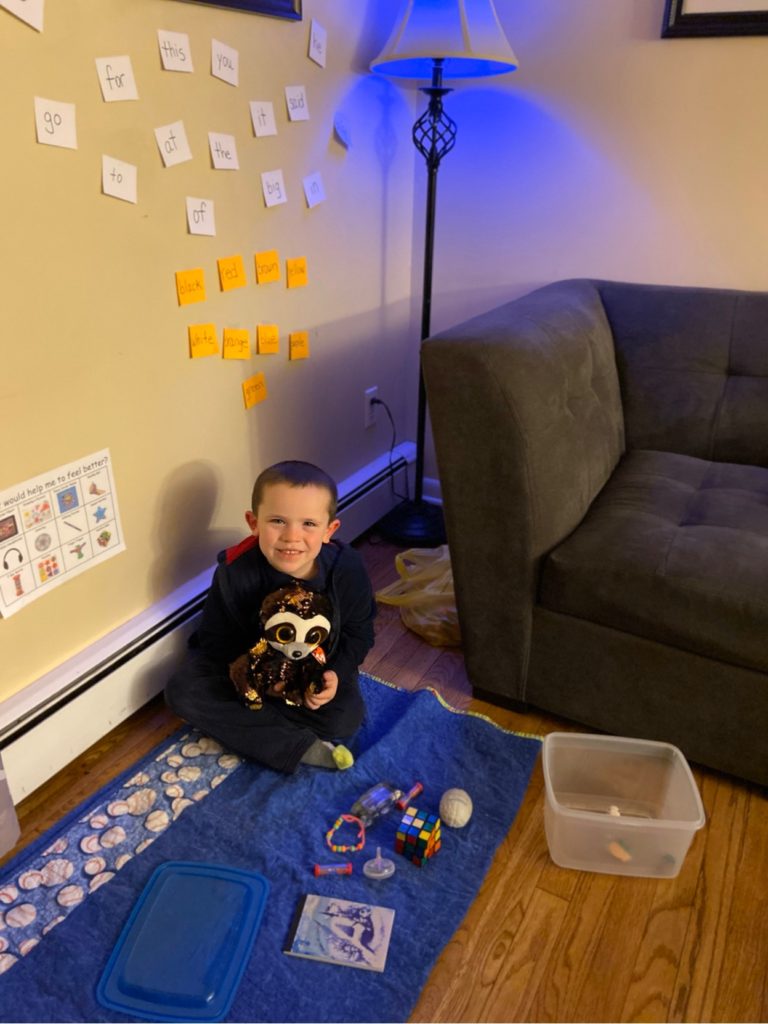 One of Jessica's families shared about the Peace Corner they created at home with their son:
Here is his Peace Corner we did this weekend. I gave him a bin and we put things in it he can use. He is holding the sequin sloth that he loves. He also picked the color blue for the light behind him. He used it once this weekend!
Transfer Back to the Classroom
While many teachers across the country were caught off guard with the shift to remote learning, we have the opportunity to support each other as we redefine practices and grow as educators.
In and out of the classroom, shared digital spaces that value emotional connections create opportunities for children to understand that beyond the screen, there are other human beings. The Feelings Check-In addresses self-reflection, empathy between people in a shared physical space, and empathy for others beyond the classroom. It is this deep understanding that can potentially transfer to every other digital interaction that children have for the rest of their lives.
If IN the foundation of utilizing technology we include a shared human experience, then we can break down barriers, build solutions, lift each other up, create possibilities for living, and elevate humanity.